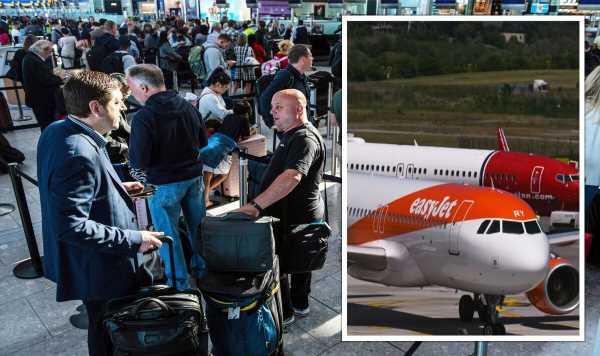 Reasons why the UK could face a summer of travel misery
We use your sign-up to provide content in ways you've consented to and to improve our understanding of you. This may include adverts from us and 3rd parties based on our understanding. You can unsubscribe at any time. More info
Cancellations from major airlines including British Airways, TUI, easyJet and Wizz Air have affected thousands of customers in recent weeks. While some cancellations were taken out of the schedule weeks in advance, other last minute cancellations left passengers stranded.
The Department for Transport and the Civil Aviation Authority have warned airlines to cut summer schedules now.
In a joint letter they wrote: "Cancellations at the earliest possibility to deliver a more robust schedule are better for consumers than late on-the-day cancellations."
The cancellations could impact holidaymakers with flights booked during the peak travel months of July and August.
They added: "Our expectation is that you and all those involved in delivering aviation services will take all possible steps to prepare for and manage passenger demand that helps to avoid the unacceptable scenes we have recently witnessed.
"It is important that each airline reviews afresh its plans for the remainder of the summer season until the end of September to develop a schedule that is deliverable."
Meanwhile airlines have said staffing issues are responsible for recent travel chaos that has seen hundreds of flights cancelled.
At a Government business select committee meeting, easyJet chief operating officer Sophie Dekkers, said delays on processing security clearance for staff had affected the airline.
She claimed that easyJet had 142 fully trained cabin crew staff who were unable to work as they didn't have crew ID passes.
Chief executive of markets and airlines for TUI David Burling, said: "The shutdown in the aviation industry was more dramatic than in other countries in Europe. We obviously had Brexit."
However, aviation minister Robert Courts, said he thought it was "unlikely" delays were caused by Brexit.
He said: "On the evidence that we have it looks as though Brexit has not been a significant factor.
"I don't think that talent pool is there."
Thousands of travel staff left the industry or were made redundant during the pandemic as the sector shut down.
The industry has struggled to recruit staff for vacancies as many former employees may have left the sector altogether.
Passengers whose flight is cancelled this summer are entitled to an alternative flight on their intended day of travel if one is available.
This is the case even if their original airline has to pay for them to fly on a rival airline.
Britons whose flight is cancelled at short notice are entitled to cash compensation if the cancellation was the airline's fault.
Travel chaos could get worse next month as train strikes are likely to add to disruption.
TUI has issued a warning to holidaymakers travelling via Gatwick due to the impact of the coming train strikes.
Customers have been advised to use alternative travel methods as there is likely to be significant disruption on train services.
Source: Read Full Article