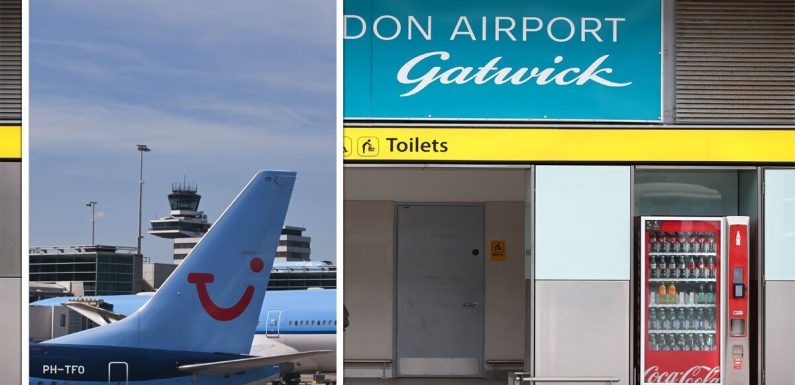 Travel chaos: Panellist slams RMT Union over strike action
We use your sign-up to provide content in ways you've consented to and to improve our understanding of you. This may include adverts from us and 3rd parties based on our understanding. You can unsubscribe at any time. More info
The holiday carrier TUI has shared a warning for Gatwick customers on its website. Train strikes could "significantly" impact passengers next week.
TUI posted on its website: "We have been advised that due to the national train strike next week (June 21, 23, 25), services at Gatwick Airport will be significantly affected.
"Only a limited amount of trains will run from Gatwick Airport to London and towards Brighton between 7am and 7pm on these days, with no service running outside of these hours.
"Gatwick Airport recommends customers use alternative travel to and from the airport on these dates and allow extra time for your journey.
"Customers can check National Rail Enquiries for the latest train times.
"Information on services during strike days will be available from Friday June 17."
The train strike planned for next week could severely impact services from London and Brighton towards Gatwick Airport.
Customers have been advised to use alternative travel to get to Gatwick Airport on those days.
The warning comes as many passengers have already faced travel chaos trying to get away for summer holidays.
easyJet, British Airways, TUI and Wizz Air have all cancelled flights in the last few weeks due to a variety of issues.
Airlines have struggled with staff shortages and have had issues replacing staff that left the industry during the pandemic.
easyJet boss Sophie Dekkers, told the Government that delays in processing security checks for staff had exacerbated the issue.
She said it was taking about 14 weeks instead of 10 to get crew ID passes for new members of staff.
The airline's chief operating officer also told the Government that getting references for new staff was taking up time.
She said many staff had had a variety of jobs during the pandemic and getting a reference for each was time consuming.
Dekkers claimed that the airline had 142 staff who are currently unable to work as they don't have their crew IDs.
Meanwhile the Government's aviation minister Robert Courts, said it was "unlikely" that Brexit was to blame for staff shortages.
He said: "On the evidence that we have it looks as though Brexit has not been a significant factor.
"I don't think that talent pool is there."
Passengers are advised to make alternative travel arrangements to reach the airport next week.
Train strikes are likely to have a huge impact across the whole network on the three days that action is planned.
It could also have a knock on impact on services during the whole week.
Source: Read Full Article