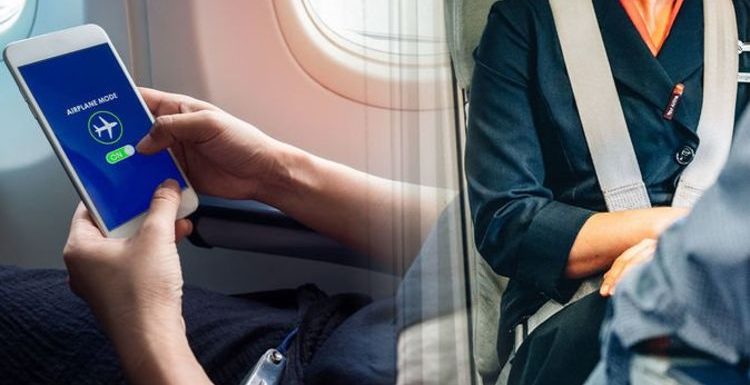 Ruth Langsford trains as BA cabin crew on Loose Women
We use your sign-up to provide content in ways you've consented to and to improve our understanding of you. This may include adverts from us and 3rd parties based on our understanding. You can unsubscribe at any time. More info
Aeroplane passengers will likely be accustomed to the fact they must switch their mobile phone either off or onto aeroplane mode during travel. This is just one of a number of safety protocols plane passengers must follow.
The reason behind this rule is largely unknown to many people, however, one cabin crew member claims to be spilling the "shocking" truth on TikTok.
So, what is the reason behind aeroplane mode?
According to Cierra Mistt, a US flight attendant, the reason could have something to do with keeping the plane flying in the right direction.
In her TikTok video, the cabin crew member explained: "The reason may actually shock you and make you think twice about trying to sneak and keep your phone on normal mode.
"Believe it or not, pilots actually aren't in charge of flying.
"I mean they are the ones operating the plane but from the moment the boarding door closes to the moment of landing the pilots are following specific instructions given to them from a group of people on the ground called Air Traffic Control whose job is to make sure that planes take off and land safely without running into each other."
Ms Mistt claims that mobile phone "frequencies" can get in the way of conversations between the aeroplane captains and the Air Traffic Control workers on the ground.
She explained: "In order for the pilots to be able to communicate with ATC they use frequencies which is what we use on our phones.
DON'T MISS
Chaos Gandia in beach as sandstorm forces tourists to evacuate [VIDEO]
Spain holiday rules: The important rules you MUST follow [ADVICE]
Green list update: When is the next traffic light travel review? [INSIGHT]
"But sometimes frequencies can collide and cause a loss of signal completely.
"Now picture how bad it would be for a pilot who is taking directions from ATC on the ground, all of a sudden loses signal and starts flying blindly all because of the frequency of a passenger's phone which interjected it."
However, not everyone agrees with this reasoning.
In fact, experts from BudgetAir say the signals from mobile phones are not strictly dangerous but can be an annoyance for pilots.
Once planes are far away from telephone towers, mobile phones tend to send out stronger signals in order to connect with the closest possible one.
It is true that they do this by using frequencies, but they don't necessarily put a stop to communications between pilots and ground staff.
Instead, the signal can cause a high pitched beeping sound which pilots pick up in their headphones.
While it might not put a stop to important instructions, it can certainly be irritating.
One other explanation for why phones should be on aeroplane mode is for passenger safety.
In the event of a sudden emergency, it is better passengers are not distracted.
This is particularly true during take-off and landing, which is why passengers are often asked to put away all electronic devices.
Aeroplane mode should be switched on as the cabin crew issues instructions – this is usually as the aircraft is taxiing.
Source: Read Full Article