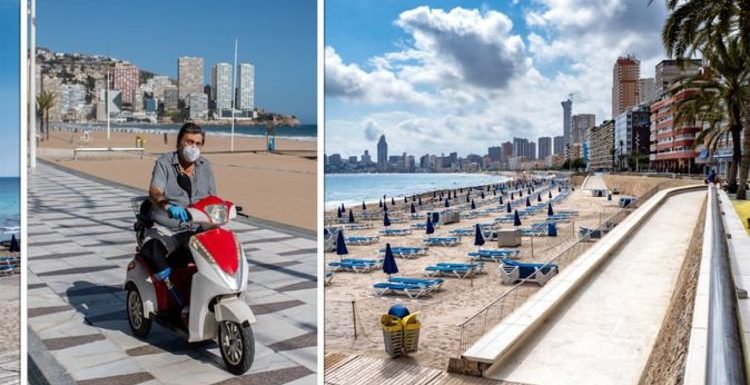 Benidorm Sun, Sea and Sangria: Couple on their love for resort
We use your sign-up to provide content in ways you've consented to and to improve our understanding of you. This may include adverts from us and 3rd parties based on our understanding. You can unsubscribe at any time. More info
The hospitality industry in Benidorm and the wider Costa Blanca region is calling for an urgent change in Spanish travel rules. It said many UK tourists had cancelled holidays.
Current rules don't allow children over the age of 12 to enter the country without proof of being fully vaccinated.
The hotel association, Hosbec, said it has suffered "thousands of cancellations" from families in the UK.
It said many British families had planned to visit Benidorm for a February half term break but were thwarted by the new rules.
A Hosbec spokesperson said: "From our sector, the Government of Spain is therefore asked that in the case of families in which one of their minors does not have a complete guideline, a negative PDIA can be enabled to allow entry into the country.
"All these thousands of reservations from British families who cannot enter Spain are being diverted to other competing destinations that have conveniently relaxed their restrictions."
The association named Turkey, Tunisia and Egypt as beach destinations that had benefited from Spain's tough rules.
Despite the cancellations, officials said that reservations for the resort were generally looking better than ever before.
The recent Benidorm Fest boosted hotel occupancy. The Fest is a singing competition to find Spain's next Eurovision song contest competitor.
British tourists are leading the international visitor market in Benidorm making up over 30 percent of foreign bookings.
Hosbec said: "It seems that green lights are beginning to come on in tourism in the Valencian Community and that little by little national and international tourism marketing is beginning to wake up."
The association is also fighting for Covid passports to be scrapped in the holiday resort.
The passports demonstrate a person's vaccination status, recent recovery or negative test result.
In Benidorm, tourists and residents must have one to enter certain hospitality establishments such as bars and restaurants.
A Hosbec spokesperson said: "The sector hopes that during February the sixth wave will be definitively controlled and all restrictions will be lifted, as other Autonomous Communities and other countries have done.
"At this time, it makes no sense to continue with a Covid passport requirement in hospitality that does not provide any type of protection and that its positive effect, which was to encourage the undecided to get vaccinated, has already been completed."
On February 1, Spain introduced a new rule which requires tourists to have a booster jab if their second vaccine was more than 270 days ago.
The rule has been brought in under the recommendation of EU advice to combat the Omicron variant.
Rules and restrictions vary across Spain but face masks are mandatory both indoors and outside in the whole country.
Fully vaccinated British tourists must take a lateral flow test on or before day two after travel until February 11 in the UK.
They must use a Government approved provider and should check the latest restrictions on the Government website before travel.
Additional reporting by Rita Sobot.
Source: Read Full Article