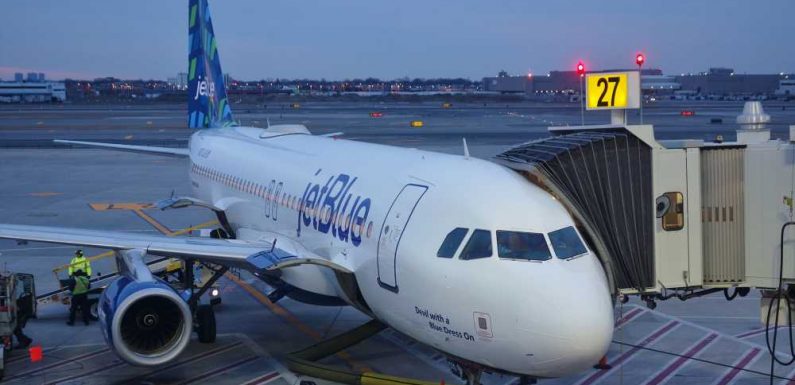 American Airlines and JetBlue have announced a spate of new routes and frequency upgrades since formally beginning their Northeast Alliance in New York and Boston in February.
But is the alliance actually beefing up competition and service out of those markets, as the airlines claim? Or do the carriers have something to worry about as regulators give the partnership a second look? 
Brett Snyder, author of the popular airline industry blog Cranky Flier, says the answer to the first question is yes, at least in New York. 
"Bringing these two together, you now have an offering that can be more attractive to corporate travelers, or anyone that is looking to consolidate their flying with one airline, so that does make it more competitive," Snyder said. He noted that on their own, neither carrier has a broad enough New York offering to compete favorably with Delta's combined LaGuardia/JFK network or with United's Newark-based network. 
But John Grant, senior analyst for the air travel data provider OAG, says it's a bit soon to truly tell what impact the alliance is having. 
"It's too early in the evolution of the relationship to see how the market has changed," Grant said. 
Under the Northeast Alliance, JetBlue and American have thus far announced codeshares on nearly 120 routes. Controversially, the DOT also authorized the duo to jointly schedule flights out of Boston, LaGuardia, JFK and Newark. 
The close tie-up prompted Spirit, and then other airlines, to object to the arrangement in January, arguing that the partnership will reduce consumer choice in the Northeast, where competition is already constrained by takeoff and landing slot limitations at several airports. 
The DOT now says it is reviewing the approval, which was granted during the waning days of the Trump administration. In addition, the Wall Street Journal, citing anonymous sources, reported in April that the Justice Department is conducting its own antitrust probe of the partnership.
Related: American, JetBlue flyers can now earn points on more flights across both airlines
As regulators push ahead with their analyses, they'll surely weigh the flurry of new and enhanced markets announced by each carrier since the alliance was approved. Headline-garnering routes, such as JetBlue's planned entry into Canada next year with Boston-Vancouver service and American's planned launch of JFK-New Delhi, have featured in the announcements. But so have more ordinary city pairs, such as JetBlue's LaGuardia-Nashville and American's Boston-Cincinnati, to cite just two examples. In April, the carriers announced a combined 24 new routes for launch by summer 2022 from Boston, JFK and LaGuardia. And that followed an announcement of 33 combined new routes from those airports plus Newark in February. 
More broadly, JetBlue has announced plans to increase daily LaGuardia flights from the 16 it offered prior to the pandemic to more than 50 by summer 2022.
That build-up will be facilitated by another key aspect of the Northeast Alliance, which is the ability of American and JetBlue to swap departure and landing slots between one another at capacity-constrained LaGuardia and JFK.
Indeed, JetBlue's LaGuardia plans wouldn't be possible without making use of some of the 327 slots American controls at the airport, since JetBlue controls just 31 slots itself, FAA data shows.
Snyder said those slot swaps will allow the alliance to make more efficient use of LaGuardia departure rights than American has been making with its existing network. As a result, the alliance can become a more serious competitor to Delta, which controls 511 LaGuardia slot pairs.
As an example, Snyder pointed out American's LaGuardia-Charlottesville, Va., service, which the carrier operated twice daily prior to the pandemic using 50-seat aircraft. Routes like that allowed American to comply with use-it-or-lose-it rules on slots. But they aren't an efficient use of LaGuardia's limited capacity.
Conversely, JetBlue, with its strength in leisure flying to Florida and the Caribbean, can make better use of a Saturday afternoon slot. Similarly, said Snyder, American needs prime Saturday slots at JFK for new routes such as Athens and New Delhi. JetBlue, with its 334 JFK slots, has them. 
But while Snyder thinks the Northeast Alliance will boost competition in New York, he isn't as sure about Boston. There, JetBlue is already the largest carrier without the American tie-up. Combined, JetBlue and American accounted for 50.6% of Boston departures in 2019, Cirium flight schedule data shows, compared with 21.5% for Delta, their largest competitor.
Related: JetBlue says new New York-London flights will shake things up
Still, so far, there is little empirical evidence on how the Northeast Alliance is impacting either the New York or Boston competitive landscape, Grant said. 
The OAG Analyzer system, he said, shows that air service concentration, as measured by the Herfindahl-Hirschman Index used by antitrust regulators, will be nearly unchanged in Boston and New York this July compared with July 2019.
"The other thing is what are the average fares and the selling fares in these markets and have they noticeably hardened because of this arrangement," Grant said. "We're going to have to wait and see." 
Source: Read Full Article