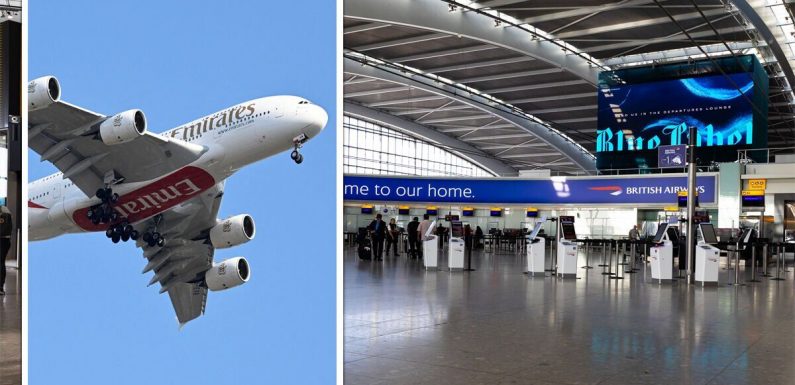 Heathrow Airport: Passengers in long queues on July 1st
We use your sign-up to provide content in ways you've consented to and to improve our understanding of you. This may include adverts from us and 3rd parties based on our understanding. You can unsubscribe at any time. More info
Refuelling staff at Heathrow Airport are set to strike from Thursday until Sunday until a last-minute agreement can be reached. The employees work for Aviation Fuel Services which provides services to over 70 airlines.
The Unite union, which is representing the workers, said passengers could see hundreds of flights delayed this weekend.
British Airways does not use AFS but passengers on Virgin Atlantic, American Airlines, SAS, Air France, Emirates, KLM and Delta could be affected.
Sharon Graham, Unite general secretary, said that AFS is "wholly owned by incredibly wealthy energy companies who are entirely able to provide our members with a decent pay increase".
She added: "This is yet another example of energy companies boosting profits at the expense of workers."
Regional Unite officer, Kevin Hall, said: "The strike action will cause severe disruption and delays at Heathrow but this dispute is entirely of AFS' own making.
"It initially refused to enter into negotiations and only belatedly made an offer which workers judged entirely unacceptable.
"Even at the eleventh hour strike action could be avoided if AFS made a substantially improved offer. The clock is ticking."
Strike action is set to take place between Thursday and Sunday this week and could affect hundreds of passengers.
A Heathrow spokesperson said: "We are in discussions with our airline partners on what contingency plans they can implement, including using other fuel suppliers already operating at the airport."
AFS had made a revised offer of a 10 percent pay increase which Unite members rejected because it "did not meet their expectations".
Unite said that staff hadn't had a pay increase for three years and had seen their pay fall by 15 percent when accounting for inflation.
The industrial action could exacerbate travel chaos passengers are likely to face this weekend as school holidays kick off.
The majority of English schools break up for the summer on July 22 which will see many families heading off for holidays from Heathrow.
They could face chaotic scenes as queues are already likely to be longer than usual due to staffing issues.
Heathrow Airport has already implemented a 100,000 passenger cap per day to try to control the chaos.
However, some airlines including Emirates have refused to cancel any flights and blamed Heathrow for the chaos.
British Airways has already cancelled thousands of flights ahead of summer amid demand issues.
Heathrow BA workers had planned to strike at the end of July but suspended the action after a fresh offer from the company.
easyJet and Ryanair workers in Spain are taking industrial action throughout July over an ongoing pay dispute.
Several flights have been delayed and some have been cancelled due to strikes earlier this month.
Source: Read Full Article