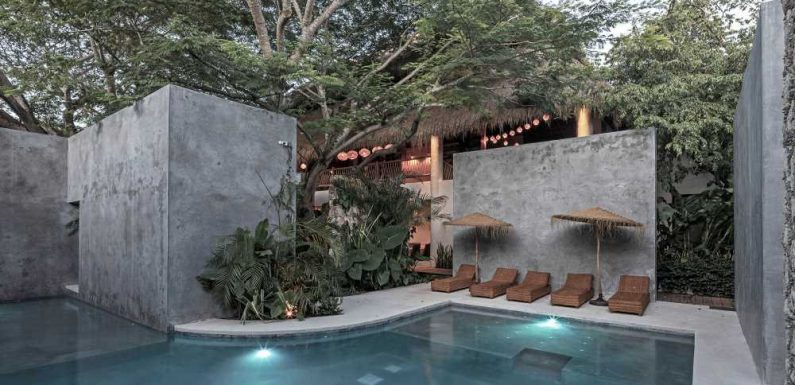 Pre-pandemic there were several Mexico destinations to watch. When it came to the state of Quintana Roo, that destination was Bacalar. Bacalar is a Pueblo Magico that sits on the banks of the lagoon of the same name. While the pandemic slowed things down considerably, the time has once again come to keep your eye on this rising destination.
Laguna de Bacalar, the second-largest lake in Mexico, is often confused for the Caribbean Sea with its iridescent, turquoise waters and languidly swaying palms. The freshwater lake is a long, skinny body of water that separates inland Quintana Roo from the skinny stretch of beaches along the Caribbean coast. The lakefront retreat has long been a haven for domestic tourism — locals escaping the fray of cities like Cancun and the state capital of Chetumal. But adventurous backpackers willing to make the journey several hours south of Tulum discovered this secret paradise, as well, and managed to keep it hush-hush until The New York Times wrote about it in 2019.
Casa Hormiga and Habitas Bacalar 
Now that the secret is out, the design hotels are on their way, which means the trendy, jet set crowd is soon to follow. One of the first hotels to break onto the scene is Casa Hormiga, an 18-room boutique resort that opened in August 2020. The resort was opened by a young couple who has lived in this part of Mexico for years, drawn to its laid-back energy and off-the-grid vibe. The design-forward jungle property features a spa, restaurant, pool and a menu of locally inspired outdoor activities, like water skiing and wakeboarding on the tranquil waters of the lake as well as catamaran outings and jungle explorations. Room options include singles, doubles and lifestyle options. Rates begin at $150 per night.
On the very near horizon, Habitas Bacalar is readying to open its doors by the end of July. Set on the lake's shore, Habitas Bacalar aims to be an sustainable ecoresort that focuses on community and conservation. The resort will feature 35 cabanas, all with lagoon views. Other amenities will include a restaurant with an open-air kitchen, spa and a wellness area and other gathering spaces. Programming will include floating meditation, temazcal (sweat lodge) ceremonies, water therapy and more.
Getting to Bacalar
Bacalar has remained mostly locals-only due to the effort it requires to get there. But that does not mean it isn't worth the journey. Quite the opposite, actually. The easiest way to arrive at Bacalar is to fly into Chetumal. However, Chetumal is not served by any direct flights from the United States, so travelers will have to connect from Mexico City. Bacalar is 40 minutes from Chetumal. The other option is to fly into Cancun and drive four hours south. The drive is easy and safe, but it is certainly not a quick trip.
Source: Read Full Article