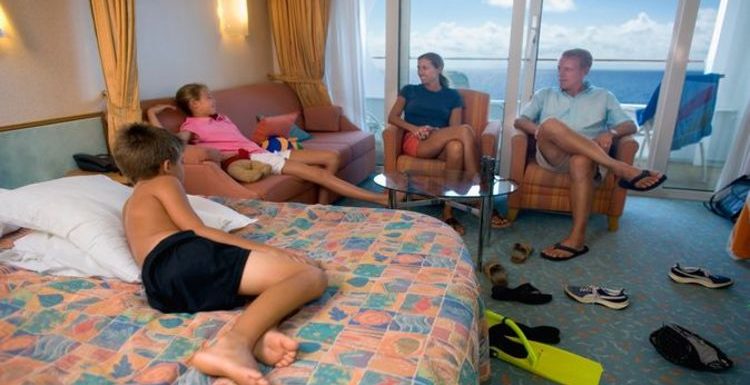 Billionaire Cruise Ship: Chef reveals how much food is cooked
We use your sign-up to provide content in ways you've consented to and to improve our understanding of you. This may include adverts from us and 3rd parties based on our understanding. You can unsubscribe at any time. More info
Cruise guests are unlikely to spend much time in their rooms due to the range of activities onboard and day excursions. However, it's always important to have a peaceful sanctuary to escape to after a long day out.
From balcony rooms to luxury suites, the accommodation on cruise ships can vary widely depending on a passenger's budget.
On some of the world's biggest cruise ships, the most expensive family suites even have personal slides and grand pianos.
However, most cruisers are likely to opt for a cheaper inner room or one of the ship's balcony rooms.
But there's one type of room that cruise experts recommend new passengers "avoid" at all costs.
Reddit user, 'otfitt' asked: "I know if you book a room that is a connecting room the wall between the two is very thin.
"But how are the rooms on either side of a connecting room? To clarify, these are the rooms that aren't connected to each other, but bordering it."
A popular choice for families is a connecting room where parents can access their kids' room via an inner door.
However, according to experts, cruise guests do not want to choose a suite next to a connecting room.
Reddit user, JetAttendant, said: "The issue is less the wall and more the door between the connecting rooms."
As the door within a connecting room may be in near constant use, guests in the neighbouring rooms could be in for a noisy night.
Another user said: "I personally avoid rooms next to connecting rooms, because those rooms are likely to be used for families with kids and more likely to be louder.
"I rarely hear anyone through the walls, but there could be extra noise with banging doors and outside in the hallway."
It's likely that children could be noisy passengers, so guests looking for a relaxing cruise might want to avoid neighbouring a connecting room.
Another user said: "We had an issue once in which four teenage girls were in the connecting room door to ours and their parents were somewhere not nearby.
"Basically it was a week-long slumber party and you could hear all the talking and giggling. I won't do that to myself again."
The teenage guests were probably having an amazing time but the giggling wasn't so great for other guests.
Although most people agreed that rooms next to connecting suites were the "worst" cruise accommodation, one person disagreed.
They said: "I've had more problems with loud balcony neighbours than connecting rooms. Slam."
Balcony rooms will also have their own door to their outside space so any slamming is likely to disturb their neighbours.
One user added: "Don't book over the bar with nightly entertainment or under a commercial area like the kitchen."
Source: Read Full Article