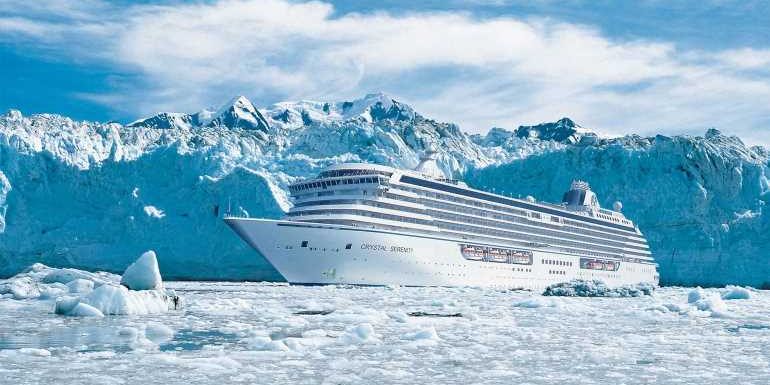 Crystal Cruises next summer will return to Alaska after a three-year absence. The luxury line will sail a series of 7- to 11-day sailings on the Crystal Serenity from Anchorage and Vancouver. 
Crystal president Jack Anderson said that the Alaska season will be exclusive to 2022, as the line does not have any sailings to the region scheduled beyond next year.
Roundtrip and one-way cruises from both ports will depart from June 23 to August 1. Itineraries include the Inside Passage, Seymour Narrows, Ketchikan, Juneau, Skagway, Hoonah and the Hubbard Glacier, as well as Prince Rupert in British Columbia. 
Onboard guest lecturers will include Kurt Dunbar, an Alaska resident and speaker for the past 20 years who will lecture on the geology of Alaska and its glaciers, native mammals and birds, the region's whale population, and an overview of its native cultures. 
Rob Caskie, a featured speaker on Crystal's "Storytellers" podcast series, will tell his personal Alaska experiences with conversations such as "The Renowned Alaska/Canada Highway"  and "Native People of the Bering Region and Bering Sea History."
Source: Read Full Article