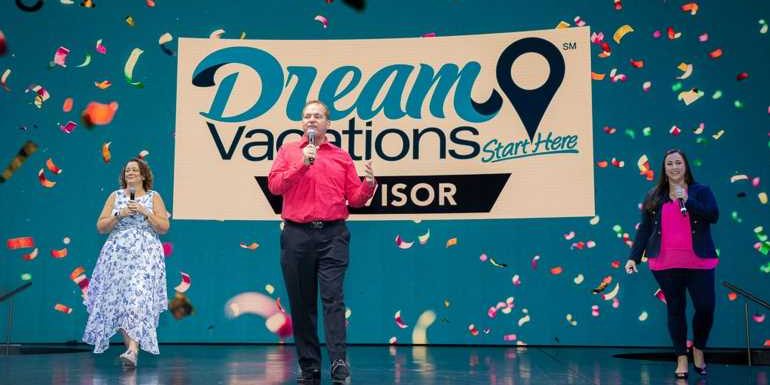 World Travel Holdings may be phasing out its Cruises Inc. hosting business, but it is not leaving independent contractors behind. 
At the annual Dream Vacations/CruiseOne conference this week aboard the Celebrity Apex cruise ship, WTH said it plans to spend "millions of dollars" to recruit ICs for its agency franchise brands. 
"This is a new recruitment program for franchisees, where it will be our dollars spent and they will be ICs of the franchisees," said Debbie Fiorino, COO of CruiseOne and Dream Vacations. "It's the same strategy we've used to recruit for Cruises Inc. for 40 years, but now we will do it for our associates. We use Google, a lot of lead generation like Host Agency Reviews, but our No. 1 source is paid search engines. Instead of feeding our host agency it now will feed the franchisees."
Related: World Travel Holdings takes new direction with ICs and franchisees
WTH research shows that expanding franchisees are more successful if they hire their own travel advisors, Fiorino said, but "there is only so much a franchisee can do in a day." 
Many just don't have the time or resources to find new associates right now. For franchisees thinking about hiring, WTH's recruitment of ICs is an opportunity to get qualified agents without having to vet them. 
With 1,500 CruiseOne and Dream Vacations franchisees, "we expect people to be knocking on our door," Fiorino said.  "In our competitive set, no one else is doing this."
In the end, Fiorino said, WTH's focus is on helping franchisees grow sales. "It's not good for our existing agents if we just grow the network. It's more important to grow the individual franchise units," she said.
Onboard the Apex, travel advisors attending the conference applauded the move as good for them and good for WTH as well. "I'm excited about the program," said Rhonda Day of Kentucky, attending the conference with her daughter.
Her franchise has five ICs, including her daughter Raven Guess and one new IC she has taken on from Cruises Inc. 
"Recruiting for Cruises Inc. was kind of a conflict of interest when WTH also had franchises," she said. "Now they are going to just sell franchises, and if someone is interested but not ready for that level of commitment, they can start as an IC. It makes perfect sense."
Source: Read Full Article