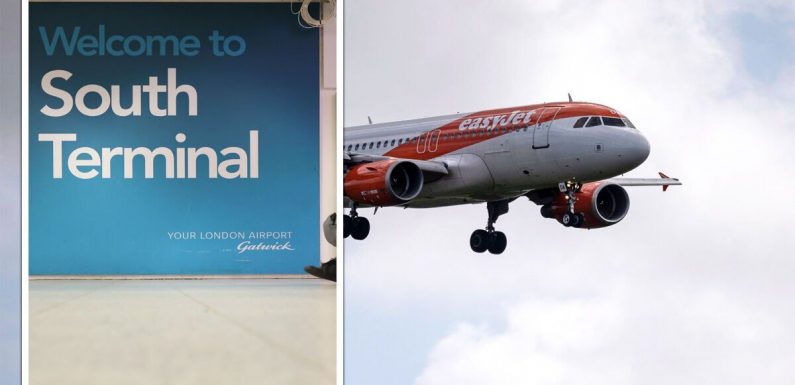 Simon Calder discusses post-Brexit passport rules for travellers
We use your sign-up to provide content in ways you've consented to and to improve our understanding of you. This may include adverts from us and 3rd parties based on our understanding. You can unsubscribe at any time. More info
The number of flights is to be cut to 825 in July and 850 in August, down from 900 in former years. The news comes after the Government ordered airlines to cancel flights if their schedule was not deliverable.
Britons have faced widespread travel chaos this year as the industry struggles to meet demand after the pandemic.
Passengers on easyJet, TUI, Wizz Air and British Airways have all had flights cancelled while others have faced heavy delays.
Steven Wingate, Gatwick Airport's CEO said: "By taking decisive action now, we aim to help the ground handlers and also our airlines to better match their flying programmes with their available resources."
easyJet has its main hub at Gatwick Airport and is likely to be affected by the upcoming cancellation news.
It said: "We expect to be able to reaccommodate the majority of customers should their flight be affected.
"We recognise the need for Gatwick Airport to do this so all airlines can provide reliable services for their customers."
Julia Lo Bue-Said, CEO of the Travel Advantage Partnership tweeted: "Gatwick flights cap is a solution to reducing the risk of last minute cancellations this summer.
"Giving travellers more certainty as the industry returns from being shut down.
"Travel agents working round the clock for their customers."
It is hoped the early cancellations will avoid last-minute chaos for British tourists, some of whom have had flights cancelled on the day in recent weeks.
Passengers are entitled to a new flight on their intended day of travel if their flight is cancelled.
This is the case even if the only available flight is on a rival airline. Last-minute cancellations may mean customers should receive cash compensation
Over 150 flights were cancelled over the Platinum Jubilee weekend with thousands of passengers affected.
Gatwick has recruited 400 new staff members but its review found that many companies operating in the airport were still suffering from a lack of staff.
British Airways is also cancelling around 120 flights a day, many weeks in advance to ease up its schedule.
TUI has also cancelled upcoming flights from Manchester Airport with around six departures axed per day.
The upcoming cancellations could mean it will be very hard for British tourists to find a holiday bargain in July or August.
Capacity is likely to be very tight so bargain hunters may be best off waiting until September for a holiday.
Disruption has also hit Europe with passengers facing heavy delays in Amsterdam and elsewhere.
Passengers at several Spanish airports have complained of long queues at border control.
Source: Read Full Article