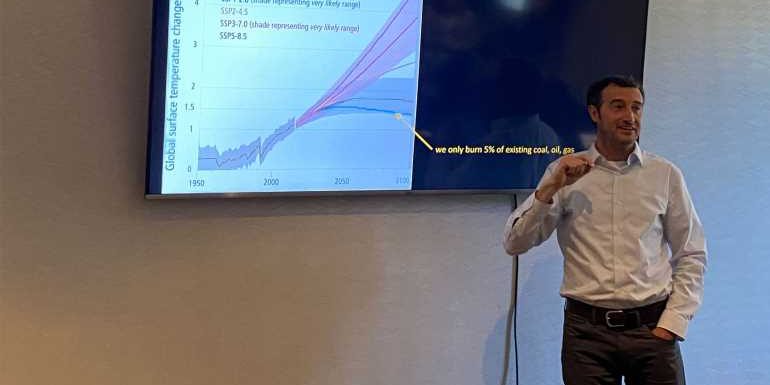 VAIL, Colo. — The ski industry faces substantial peril from climate change, but it's not too late act, hydrologist Patrick Belmont told attendees at the Mountain Travel Symposium conference here. 
"We have all the technology we need right now," said Belmont, a professor of watershed science at Utah State University. "We just need to scale up the use of the technology."
Nevertheless, a study published by Belmont in 2021 demonstrates the challenges facing the ski industry. His analysis of 14 Utah ski areas showed that on average those resorts could make snow during 80% of their ski season days in 1980. But that figure has diminished to just 60% and continues to decrease. In addition, Utah's famously light, powdery snow is getting wetter. 
Belmont also discussed the trends in April snowpack across the American West since 1955. While it has increased in some locations, especially in the southern Sierras, the large majority of locations have experienced decreases, with many of the average decreases exceeding 60%.
Simply put, said Belmont, slowing these trends will require eliminating our use of coal and gas and replacing it with existing technologies, most notably solar, wind and geothermal power. 
Speaking in conjunction with Belmont, Vail mayor Kim Langmaid talked about the steps that in 2017 made the town the first Certified Sustainable Destination in the U.S. under a certification process sponsored by the Netherlands-based Global Sustainable Tourism Council and Green Destinations. 
Crucially, Vail has aided the local electric utility Holy Cross Energy in its commitment to rely on 100% green power sources by 2030.
The town is also taking numerous other actions, including moving to an all-electric vehicle fleet and making an effort to have 50% of its workforce live within five miles of their workplaces by 2030. 
"In the worst-case scenario we're going to be a desert by the end of this century. In the best-case scenario we might be able to keep a ski industry. So it really depends on the actions we take right now," Landmaid said. 
Mountain Travel Symposium is convening in person for the first time in three years. The event is organized by the meetings group of Northstar Travel Media (Travel Weekly's parent company).
Source: Read Full Article