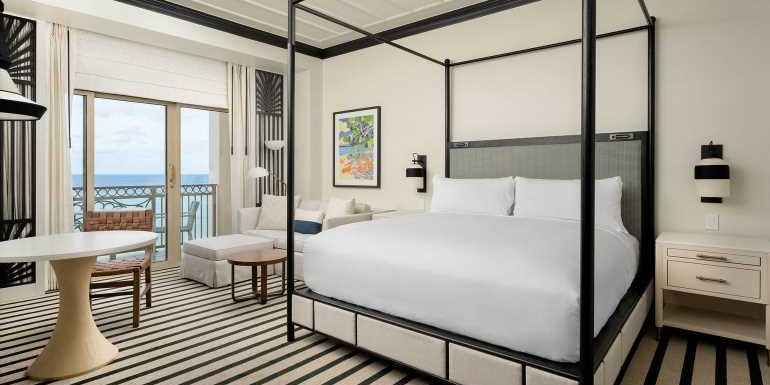 The Ritz-Carlton, Grand Cayman welcomed guests back on Dec. 15 after completing an interior renovation. 
The resort updated the color palette, which features deep blues, shades of green inspired by the island's plant life, whites and beiges reflecting the island's sandy beaches, and shades of turquoise representing the Caribbean Sea. 
The hotel closed to guests on June 1 to execute the redesign, while the restaurants and bars remained open.
Redone guestrooms and suites maintain notes of British West Indian style while incorporating new artwork, fixtures and materials sourced from the island. 
Related: Cayman Islands to welcome a cruise ship — with conditions
The renovated Silver Palm Lounge serves a collection of rare rums, premium hand-rolled cigars and premium chocolates for guests to enjoy. 
The resort's meeting spaces were updated with warm accents on the ceilings and rope detailing in the wall coverings. New light fixtures transpose undersea life onto the ceiling with sculptures made to look like coral colonies.
The 369-room Ritz-Carlton, Grand Cayman offers a spa, tennis and basketball courts, the Starfish Cay water park, a Greg Norman-designed nine-hole golf course and five restaurants, including Blue from chef Eric Ripert of New York City's Le Bernardin.
Source: Read Full Article