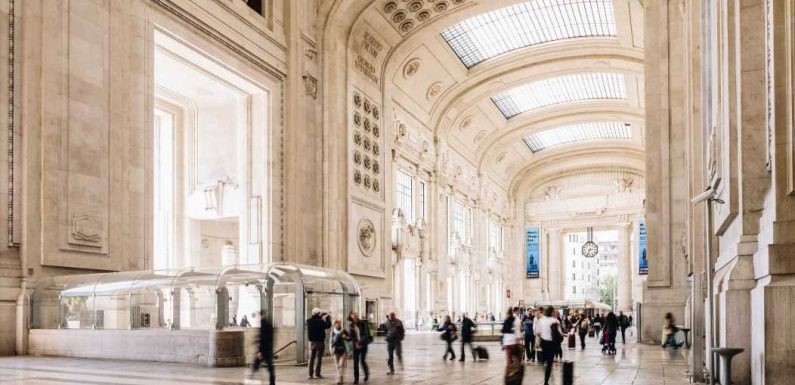 As we roll into the new year still battling the same pandemic-induced dilemmas that troubled us in 2020, it seems that stress and anxiety are here to stay for a while. Just leaving the house for basic necessities requires an extended mental checklist with face masks and hand sanitizer top of mind. But for those who go much farther than the front door, traveling now demands more preparation than ever before—and it's all done with the threat of COVID-19 looming in the air.
Anxiety, however, is nothing new for Americans. Andrew Rosen, a clinical psychologist and the founder of the Center for Treatment of Anxiety and Mood Disorders, told us last year that about 40 million Americans are diagnosed with anxiety disorder. Even more people—about 25 percent of the population—are specifically anxious about travel. And those are pre-pandemic numbers.
In today's world of lockdowns, record unemployment, and social distancing, it's safe to say those statistics are probably higher now. From working the frontlines at higher rates to insidious gender roles giving them even more responsibilities at home, women are taking the brunt of the pandemic's impact. And with statistics showing that women travel more than men (especially solo), the stress of traveling in times of COVID may fall on their shoulders as well, even for women who previously didn't struggle with travel anxiety.
"Travel involves being willing to expose yourself to new situations and to be able to tolerate some uncertainty because you don't know exactly how it's going to go," says Bethany Teachman, a psychology professor and director of clinical training at the University of Virginia.
According to Teachman, travel-related anxiety usually fits into one of three categories: the mode of transportation (ie. flying, sailing); the destination itself and challenges like language barriers; or the idea that something is being missed or mismanaged at home.
"What they share in common is discomfort with the unknown, that intolerance of uncertainty," says Teachman, who's a member of the Anxiety and Depression Association of America.
She also notes that travel-related anxiety can change within different historical contexts. After September 11, there was increased fear and anxiety surrounding plane hijackings. Nowadays, it's the breath—or worse, the cough—of our fellow travelers that has people on edge.
"The days leading up to my trip were awful," says Cassandre Dunbar, a doctor, professor and wellness content creator who went to a Mexican destination wedding in November. "Although we were looking forward to this wedding for over a year, we anxiously and hesitantly went out of love and support for our relative."
Dunbar has never enjoyed flying because of the turbulence, but this time it was COVID that consumed her mind. Throughout the trip, she nervously imagined the different scenarios in which she could possibly get infected.
"COVID is like this invisible monster who is most ferocious when you leave your bubble," she says, adding that she has no future travels planned at this point. "Reports of the new, 'more contagious' [strain] of COVID has made me apprehensive to even begin planning anything."
For Portland resident Kay Kingsman, the CDC's guidelines for social distancing and avoiding large gatherings were part of her life even before the pandemic began.
"My travel anxiety stems from aversion to people and large crowds," Kingsman says. "In my everyday life, I avoid talking to strangers if at all possible, which has been a situation I've dealt with since I was a child. That has always been part of my experience as a traveler."
Normally an avid explorer, traveling more than seven times per year, Kingsman, like many Americans, opted for a road trip last summer. Before departing, Kingsman isolated herself, got tested, and stocked up on supplies so she wouldn't have to stop before reaching her destination. She was planning for a safe, socially distanced getaway in the outdoors, "but nothing could have prepared me for the large crowds of people who had the exact same idea as me, but [were] a lot more careless."
On her trip to Idaho, Wyoming, and Montana, Kingsman often found herself surrounded by masses of people who didn't respect social distancing guidelines or wear face coverings. On more than one occasion she was even berated by others for wearing a mask.
"I've always been fearful of making the wrong decisions, but COVID has only heightened the level of anxiety these decisions carry"
Teachman says differing attitudes towards dealing with the pandemic is also a major driving factor for the anxiety people feel with traveling. In our own environments, we can control our risk factors, but in new places and situations we don't know what choices others have been making and how that can affect us.
For Kingsman, it was ultimately enough for her to cancel her other upcoming road trips.
"With so many people incorrectly equating public health measures as a political stance during a surge of protests calling out racial inequality in America, I was deeply concerned for my safety as a Black woman," Kingsman says. "Crowds while traveling have so many different layers of anxiety for me now."
Beyond the risk of exposure causing increased anxiety for travelers, there are also those more concerned about their actions potentially impacting others, whether at home or in their destination.
"I've always been fearful of making the wrong decisions, but COVID has only heightened the level of anxiety these decisions carry because I'm not only choosing them based on price and desire but also safety," says Dana "dCarrie" Armstead who describes her travel anxiety as manifesting in self doubt. This sentiment coupled with confusing travel regulations at her job in New York's court system is what keeps Armstead from venturing out, despite also working as a travel podcaster.
"I am indeed my brother's keeper and although I don't like or enjoy it, I will sacrifice a personal want for the need of another—pandemic or not," she says. "It would devastate me knowing that my travels may have been the reason for a coworker or member of the public getting sick."
And while most people can easily avoid traveling, Karen M. Ricks had no choice. As the nomadic head chef of Our Kitchen Classroom, Ricks and her family have been on the road full time for nearly four years, meaning they had no home base to hunker down in when the pandemic hit. Under normal circumstances, the family would hop on planes, trains, and buses at least once a month to go exploring, but the pandemic caught them in the Balkans. Now they oscillate between North Macedonia, Kosovo, and Albania, moving only when necessary to maintain their legal status as tourists.
Pre-COVID, Ricks would have described herself as a "fly-by-the-seat-of-my-pants type of traveler," but with lockdowns, closing borders, and constantly changing travel requirements, she has had to change her ways.
"Out of necessity, I became an almost obsessively detail-oriented over-planner, triple and quadruple checking every bit of minutia before cross-checking again with my husband," she says. "It was kind of exhausting." Now, Ricks uses breathing and meditation techniques from her yoga practice to deal with the newfound anxiety she feels.
According to Teachman, other factors causing travel-related anxiety this year also include a fear of judgment from friends and family, as well as financial hardships or guilt for spending on travel during such uncertain times.
As vaccine distribution is underway in several countries around the world, however, Ricks feels cautiously optimistic.
"The vaccine rollout seems to provide the proverbial 'light at the end of the tunnel' for the global travel restrictions we experienced in 2020," she says. "However, I'm not exactly holding my breath for the end of all the added complications, nor am I expecting 2021 to see a swift 'return to normal,' either."
While some people may be itching to get vaccinated as a green light to travel, Lola Méndez, a freelance writer based in Uruguay, has a higher standard.
"I will be comfortable traveling once a vaccine has been widely distributed globally," she says, adding that she'll travel "like normal" again, "in an ideal scenario, when I know that my choice to travel isn't likely to result in someone dying of a virus I brought to the destination."
As much as we'd all love to flip a switch and make COVID-19 disappear, Teachman says it's more likely that we'll be dealing with the risks and fear of this virus on a spectrum, and she suspects that people will feel COVID-related travel anxiety for a long time.
Teachman recommends finding science-driven, evidence-based sources of information to help guide your choices by first making reasonable evaluations of risk factors. When it comes to specific travel plans, Teachman suggests avoiding an "all or nothing" approach, and instead looking for ways to enjoy parts of your original plan so that you're striving to minimize risk, even if you can't fully eliminate it. If you must cancel plans, think of it as a postponement as opposed to a forever cancellation.
And if the stress of the pandemic feels overwhelming, Teachman says it's important to seek help even if you don't meet the formal criteria for an anxiety disorder diagnosis. She points to the COVID Coach app created by the U.S. Department of Veterans Affairs as an excellent, free resource for anyone.
Above all, Teachman says we must have compassion with others and ourselves during these trying times.
"Recognize that people are balancing risks to their physical health as well as risks to their mental and emotional health," she says. "These are not easy decisions to make for anyone. Try to have some compassion as we figure this all out."
Eventually, we'll be able to venture out into the world again fully and freely, and when we do, that compassion is something we should carry with us—both at home and abroad.
Video: Maddison embraces importance of social distancing (NBC Sports)

Source: Read Full Article