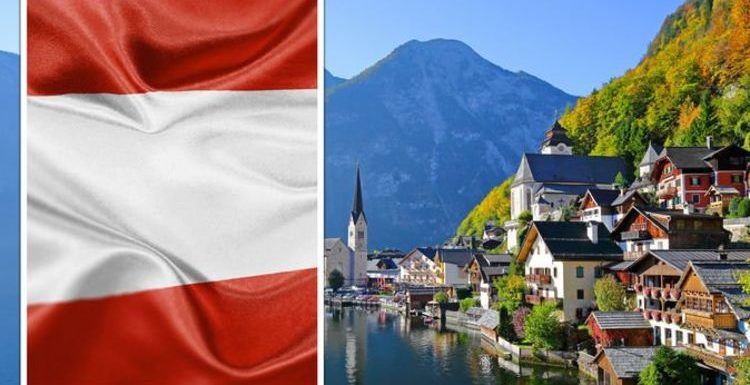 Austria: Cheetah cubs celebrate first birthday in Schönbrunn Zoo
We use your sign-up to provide content in ways you've consented to and to improve our understanding of you. This may include adverts from us and 3rd parties based on our understanding. You can unsubscribe at any time. More info
With beautiful landscapes, cafe culture and amazing cultural heritage, Austria is a wonderful place to visit. A fortnight ago, Austria lifted the blanket travel ban for the UK and now travellers can head there for a holiday or to visit family and friends. However, there are still some Covid travel requirements you must be aware of. What are Austria's travel restrictions?
Whether it's enjoying Alpine landscapes, tasting delicious cakes in Vienna or you simply want to run over a hill while singing a song: you might be thinking about visiting Austria.
The central-European country has buzzing cities to waltz around like Vienna and Salzburg, as well as amazing outdoor escapes in the Alps. Especially at this time of year, Austria is a great bet for a mini-break.
However, up until mid-August travellers from the UK were banned from entering Austria.
On August 15, 2021, Austrian officials announced fully vaccinated travellers from the UK are welcome to enter Austria for non-essential reasons, like tourism, without having to quarantine.
Travellers will need to complete a form within 72 hours before arriving in Austria.
Unvaccinated Brits are welcome to travel to Austria but will have to self-isolate for ten days after arriving.
Austria's entry requirements in full
To enter Austria, you must be able to give proof of your Covid vaccination, a negative Covid test or proof of recovery from coronavirus. You will also need to complete a pre-travel clearance form.
Because Austria is on the UK's green list, you won't have to isolate upon returning to the UK.
Vaccinated travellers
If you've been double-jabbed you can enter Austria and won't have to quarantine.
For single-shot vaccines (such as the Johnson & Johnson vaccine, where you are vaccinated after one dose, not meaning having had your first jab of a vaccine that requires two jabs) you must have received the vaccine more than 21 days before travelling to Austria.
Unvaccinated travellers
If you have not been vaccinated against coronavirus, you can still travel to Austria but you will need to self-isolate once you arrive.
You will need to take proof of a negative PCR test taken in the last 72 hours or proof of a negative antigen test taken within the last 48 hours.
If you have had Covid and recovered within the last 180 days, you can use proof of recovery to enter Austria.
You will have to self-isolate for 10 days once you arrive, with the option to take a PCR test on day five of isolation which, if negative, will allow you to end isolation after five days.
Do you need a visa to travel to Austria?
You are allowed to travel to Austria as a tourist, to visit family, to attend business meetings or to study, for 90 days without a visa.
To stay longer, you may need a visa or a work permit.
At Austrian border control, your passport will be stamped upon entry and exit, and you may be asked to show your return flights.
What are Austria's Covid rules?
The Austrian government still has policies in place to reduce the risk of coronavirus spreading in the country.
Facemasks are compulsory on all public transport including taxis
Facemasks are also compulsory in supermarkets, banks, bakeries, food shops, service station shops, cable cars, post offices, pharmacies, doctors' offices
Entry to restaurants, bars, theatres and other shared cultural and sporting spaces requires proof of vaccination, recent recovery from COVID-19 or a recent test
Entry to nightclubs is only permitted with proof of full vaccination or a negative PCR test taken within the last 72 hours.
Source: Read Full Article