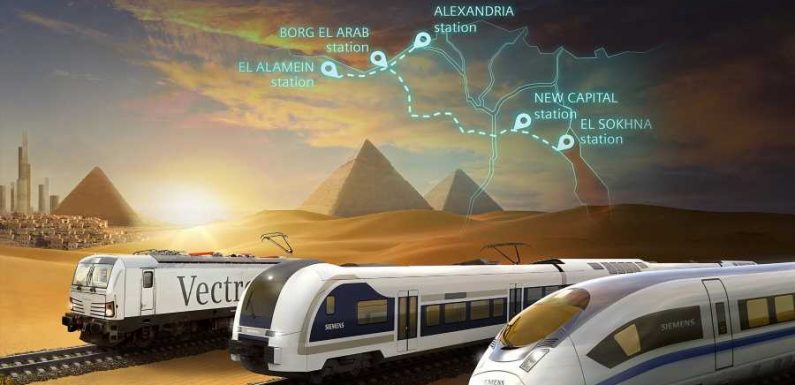 Exploring Egypt from the Red Sea to the Mediterranean is about to get a whole lot easier as the country plans to welcome its first-ever high-speed train line. The entire route will stretch 1,000 km (about 621 miles), connecting the two seas with 15 stops along the way.
The first section will span 460 km (about 286 miles), linking El Alamein on Egypt's Mediterranean coast and Ain Sokhna, Lonely Planet reports. These small towns are quickly developing and the train line passing through might even speed up that process. Among the 15 stations on the high-speed train line is also the yet-to-be-named "new administrative capital," which began construction in 2015 in an effort to move government buildings about 28 miles outside of Cairo.
According to Lonely Planet, the construction of the new train line will last about two years and will be designed, installed, and maintained by Siemens, the German industrial manufacturing company.
"We are honored and proud to expand our trustful partnership with Egypt," Joe Kaeser, president and CEO of Siemens AG, told Lonely Planet. "By building a high-efficiency rail system for the country, we will support the Egyptian people with affordable, clean, and reliable transportation."
Though this will be Egypt's first high-speed train, the country has had a train network since the 1850s and was actually the first country in Africa and the Middle East to have one. Egypt's current train system is extensive, with more than 3,000 miles of tracks connecting nearly every major city and town. Unfortunately, the system is also antiquated and underfunded, which has led to several deadly accidents in recent years. According to Lonely Planet, while construction is underway on new tracks for the high-speed train, Egypt is also now receiving a monthly shipment of new Russian-made train carriages to upgrade its current fleet.
Jessica Poitevien is a Travel Leisure contributor currently based in South Florida, but always on the lookout for the next adventure. Besides traveling, she loves baking, talking to strangers, and taking long walks on the beach. Follow her adventures on Instagram.
Source: Read Full Article