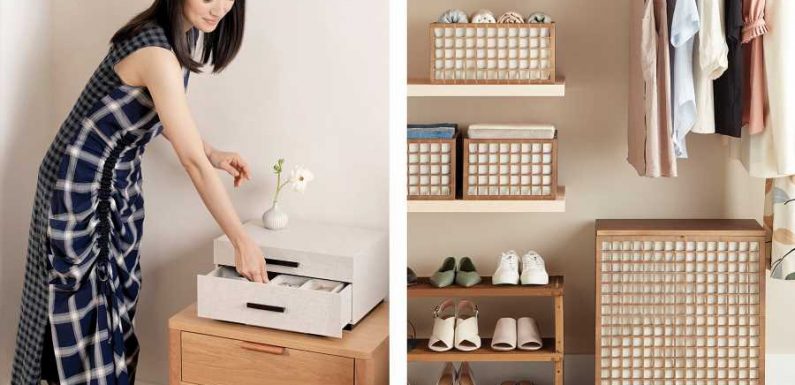 If there's anyone who can help you become a better packer, it's master organizer Marie Kondo. From her popular book, "The Life-Changing Magic of Tidying Up," to her Netflix series, Tidying Up With Marie Kondo, there's no questioning her unparalleled methods of organization. 
This month, Kondo took things a step further by releasing her first collection with The Container Store. The collaboration includes 100 sustainably sourced items inspired by her Japanese heritage and designed to declutter all the corners of your home. Whether you're in desperate need of a closet refresh or a home office makeover, Kondo has hikidashi storage boxes, elegant wood hangers, handwoven baskets, and more that are guaranteed to elevate any room. 
When you think about it, every trip begins the moment you start packing that suitcase at home. If your space is all over the place, there's a strong chance you'll forget something, overpack, or simply not be in the right mindset. Instead of experiencing the initial stresses of traveling, Kondo is here to help spark joy in your next adventure. Read on for her game-changing travel advice, along with details of how her line came to life. 
Travel + Leisure: First, can you share the inspiration behind your collection? 

Marie Kondo: "The Container Store x KonMari collaboration features more than 100 sustainably sourced products and was designed to inspire a tidy and joyful home. The products were made to help people organize using my tidying method, but we also infused aspects of my Japanese heritage, like the hikidashi storage boxes (for drawer and closet organization) and bamboo storage bins (inspired by shoji)."
Which items from the collection would you recommend to frequent travelers? 

"The collaboration features product collections for different areas of the home: wardrobe, drawers and closets, desk and office, kitchen and pantry, and kids' tidying. That said, the small hikidashi boxes are perfect for protecting and organizing jewelry and accessories while traveling, and I highly recommend the storage pouches for stowing kids' stuff (such as game pieces, coloring books, and toys) when you're on the road."
When you're traveling, what are some of your carry-on essentials? 

"A few of my travel essentials include moisturizing hand cream to keep my skin hydrated during the flight, a washable silk sleep mask to block out the light and stay rested, a merino wool laptop sleeve to keep my computer protected in my carry-on, and reusable food containers, like a classic bento box or sturdy ceramic bowl, for packing healthy in-flight snacks."
What are some of your best packing tips? 

"For those who travel often, I recommend keeping a separate toiletry [case]. This saves time that would otherwise be spent unpacking and repacking everyday use items. I also recommend packing clothes using the KonMari method, folding articles neatly and standing them upright inside your suitcase. By doing this, you'll be able to make room for new items that you may buy during your trip. Finally, it's important to pack with a positive mindset. For instance, if you are packing for a vacation, you may want to envision your destination and use packing as a way to build anticipation for your holiday. Similarly, if you are packing for a business trip, imagine the great work that you will accomplish on your trip."
When you're going on an extended trip, what's your advice for making sure you only bring what you need? 

"If you tend to overpack things that you believe you 'might' use, try traveling once with only the most essential items. The more experience you gain traveling with fewer items, the better you'll be at identifying what you truly need, and you will no longer stuff your suitcase with things that you don't."
Source: Read Full Article