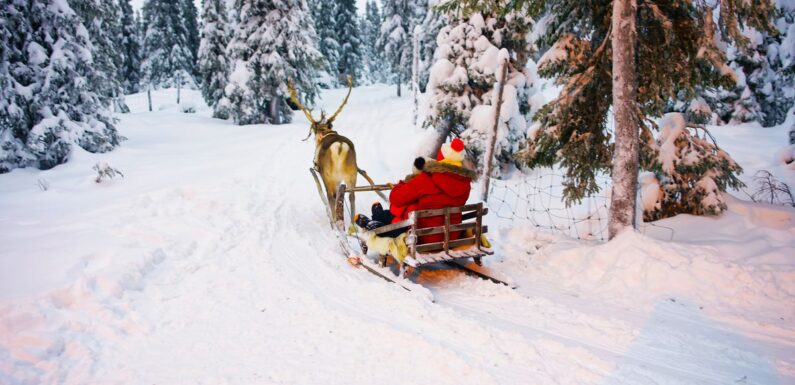 If you're looking for ways to make this Christmas season feel that little bit more magical, then you may want to check out Wowcher's latest Lapland deal.
The vouchers firm has launched Lapland holidays from £269pp which include a hotel stay and return flights in Rovaniemi, Finland, with a choice of three-night, four-night or five-night breaks. You'll get a choice of hotel from Santa's Hotel Santa Claus or the Hotel Metsähirvas, while flights will be available from London Gatwick, Stansted or Luton.
You can already book the deal here but it's worth noting the prices are based on two people sharing, so you'll need to buy two vouchers to qualify for the deal. The offers are valid for selected travel dates from November 1, 2023, to January 31, 2024 but when the Daily Star team took a look most of the cheapest rates were in November.
READ MORE: Europe's viral Christmas market is back with £13 flights, £1.15 beers and £9 rooms
READ MORE: 'I travel with 'Mom I'm fine' sign – even diving with sharks or on deadly mountains'
While activities aren't included in the price, you won't be short of options for a dreamy festive getaway. There's heaps to see and do in Rovaniemi whether that's meeting Father Christmas himself, enjoying a reindeer sleigh ride, or even going on a husky safari. Then of course Lapland is one of the best destinations over winter if you want a chance to see the Northern Lights too!
Want the Daily Star's top travel stories and best deals straight to your inbox? Sign up to our free weekly newsletter here.
Even without the activities included it can still make for a tempting offer, as plenty of Lapland packages can add up to cost thousands of pounds for families. Still, that doesn't mean there aren't more deals to be found. Other holiday giants such as TUI, Loveholidays, Inghams and MagicBreaks offer a host of different holidays whether you're after a hotel and flights only deal, or you're looking for a package that includes some of the magical activities such as Santa meet and greets too.
Then of course it's also worth keeping an eye out for Lapland UK tickets. Unlike the Finnish counterpart, this one's a day experience for families rather than a full blown break, but it still offers plenty of festive spirit, a chance to meet Father Christmas AND to hang out with the Elves while getting up to all sorts of mischief.
READ MORE: Tourists slam 'attention seeking' women doing 'cringe' dance routine at Stonehenge
Don't be disheartened if you can't find a holiday that's quite right for you. We've searched out plenty more holiday deals which we regularly update with the latest sales, discount codes and offers we think you'll love.
THen of course there are plenty of insider tips and tricks out there to finding the best bargains. One woman recently revealed the Google 'cheat code' she found to help her spot the cheapest flights to a whole host of holiday destinations.
In a video explaining how to get to the deals, she added: "Does anyone else know about this? Because I feel like the world is gatekeeping how insane this is. So, literally, it gives you flight prices for ridiculous prices – £26 return flight to Barcelona. If we go over here we see £34 flights to Vienna, £54 to Budapest. Even if you wanted to go long-haul, just go over to the US. £336 to fly to New York! And if you go onto it, it'll give you the dates so this is for the 16th Feb to the 25th, so like a week. £336 round-trip. Guys, I'm not joking – it gives you it for the whole world. £507 to Singapore! Like, guys."
Source: Read Full Article