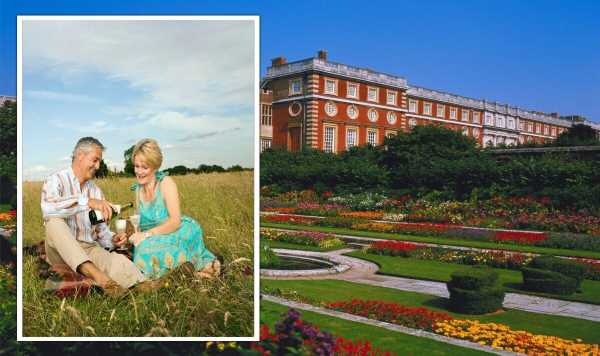 Snowdon guide caught someone 'going to the toilet' on railway
We use your sign-up to provide content in ways you've consented to and to improve our understanding of you. This may include adverts from us and 3rd parties based on our understanding. You can unsubscribe at any time. More info
A study by luxury food and gift hamper company, Cartwright & Butler, have analysed the best picnic spot in the UK's royal gardens and parks. All of the spots allow picnics and have been tagged many times on Instagram.
Best Royal Picnic spots (Cartwright & Butler)
Kew Gardens
Hampton Court Palace
Sandringham Gardens
Hever Castle
Windsor Great Park
Garden Wisley
Tintagel Castle
Kenilworth Castle and Elizabethan Garden
Cliveden
Osborne House
Sudeley Castle
Glamis Castle
Garden Harlow Carr
Garden Hyde Hall
Kew Gardens was rated as the number one spot for a picnic in one of the UK's royal parks and gardens.
The stunning London Gardens are famed for their incredible collection of exotic plants as well as the beautiful glasshouse.
In second place was Hampton Court Palace, once one of Henry VIII's favourite royal residences.
One visitor wrote on Tripadvisor: "We visited Hampton Court Palace and had a wonderful time."
Sandringham Gardens rounded off the top three spots. Visitors that travel to the Gardens this summer will be able to enjoy the special Butterfly Meadow.
In place from July 16 until September 1, the Gardens will host an incredible installation of 1,500 butterflies.
Picnickers could enjoy the stunning shrubbery which was instigated by the Queen in the late 1960s and features rhododendrons, camellia and magnolia trees.
Hever Castle was the fourth most popular spot. The Castle was once the family home of Anne Boleyn.
Its award winning gardens could be the perfect sunny location for a summer picnic this year.
Windsor Great Park also made the top five royal picnicking spots. Encompassing 5,000 acres, the garden includes a deer park.
Most parts of the park are open to the public free of charge but people will need to pay to visit the Savill Garden.
RHS Garden Wisley was also ranked as one of the top picnicking spots and showcases an incredible range of plants.
A royal garden calls for a posh picnic and Cartwright & Butler shared their top tips for Britons.
A spokesperson said: "Go for smoked salmon sandwiches, a reported favourite ingredient of the Queen's.
"Try avoiding using leaves as a base for your salad, as these can wilt throughout the day, opt for pasta or grain-based dishes.
"A picnic is not complete without a cheese board, pack your favourite cheeses and accompaniments."
Source: Read Full Article