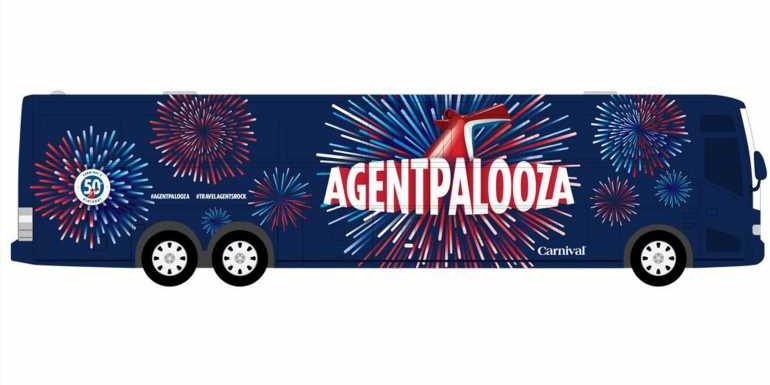 In June, Carnival Cruise Line's sales team is resurrecting its "Agentpalooza" bus tour to treat agents like rock stars. Carnival plans to host festival-like parties in four eastern U.S. cities.
Carnival will also host a virtual experience for all travel advisors unable to attend one of the celebrations in person. The new virtual event will feature a livestream of on-stage events and prizes. 
"Obviously, the last few years have been not so much fun," said Adolfo Perez, senior vice president of global sales and trade marketing. "It's just a way for us to celebrate their success and our 50th birthday."  
The event is the first such "Agentpalooza" since 2018 and the third bus tour. Past tours visited California and several southern cities. 
Carnival president Christine Duffy will make an appearance at the bus tour's first stop in Philadelphia on June 1. Carnival's sales team will then ride the bus, emblazoned with "#TravelAgentsRock" to its next event in Baltimore on June 2, followed by Norfolk, Va., on June 3 and Charlotte on June 4. 
The parties will include activities inspired by Carnival's onboard experiences and the cruise line's 50th birthday — interactive games, one-on-one time with the Carnival sales leadership and team, and light refreshments from local food trucks. 
Attendees will have opportunities to win prizes, including Carnival cruises, "Loyalty Rocks!" reward points, and Carnival swag. Each travel advisor will receive a special booking offer to share with their clients following the event.
Carnival will also raise funds for St. Jude Children's Research Hospital.
In a nod to the cruise line's 50th birthday and the 60th anniversary of St. Jude, Carnival is asking agents to donate $50.60 to the organization. Carnival will match donations up to $25,000. 
Source: Read Full Article