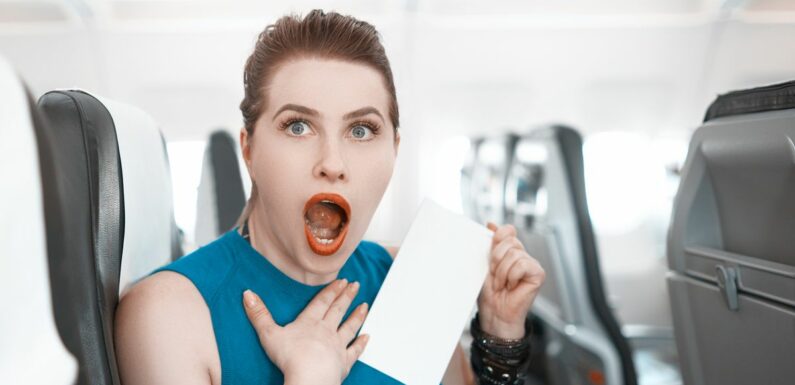 Lots of unusual things can happen on a plane from terrifying turbulence to spotting an eagle in the terminal. But, one passengers recently complained that a drunken man tried to urinate on her.
An anonymous women, who goes by ES, told the Telegraph that she recently treated herself and her husband to an upgrade to business class on a flight, using 108,000 air miles for the treat.
Unfortunately, it did not turn out to be the luxury experience she'd hoped for.
READ MORE: Brit tourists at Spanish hotspot will have to sign 'good behaviour pledges'
ES noted that she was flying from Glasgow to Sydney via Dubai with the airline, and decided to upgrade for the second leg of the route, a 13-hour flight.
However, she reported that fellow passengers ruined their trip due to getting "very rowdy" in the lounge bar. Meaning it was a major downside for her and her husband.
She told the Telegraph: "One of the men drunkenly approached my seat and wanted to sit down, convinced it was his. His friend led him away, but then around an hour or so later, the same thing happened once more. This time one the one of the stewards removed him, as my husband had already alerted them to the situation.
"But still, it happened a third time, and this time as he approached me he undid his trousers and it looked like he was going to urinate at my seat. My husband had to push him away. Apparently this man had already urinated on his own seat."
The woman explained that the man had ruined their journey and left them getting no sleep. She added: "I got absolutely no sleep whatsoever because I was terrified that if I shut my eyes he would come back and relieve himself on me. "
The passenger said that an incident report was filed on-board and that Emirates would contact them. Sadly, when ES asked the airline to reimburse the air miles she had used to upgrade she claims the airline told her she would only be given 20,000.
This was as a "gesture of goodwill" from Emirates, but the passenger was furious. She blamed the airline for serving the man alcohol.
Eventually, the reimbursement was upped to 60,000 flight miles. An Emirates spokesman said: "We are disappointed to hear Mrs. S's complaint. Emirates takes the safety of its passengers very seriously and our customer affairs team are in direct contact with her to resolve the matter."
Emirates was contacted by Daily Star for comment.
READ NEXT:
Livid dad causes outrage after posting rant about 'obese' passenger on flight

Flight attendants reveal worst 'entitled' passengers they've had to deal with

Brits getting drunk in Spain could be hit with £2,644 fines in latest crackdown

Brit 'angry and upset' as Spain enforces 'six drink rule' on all-inclusive holidays
Source: Read Full Article