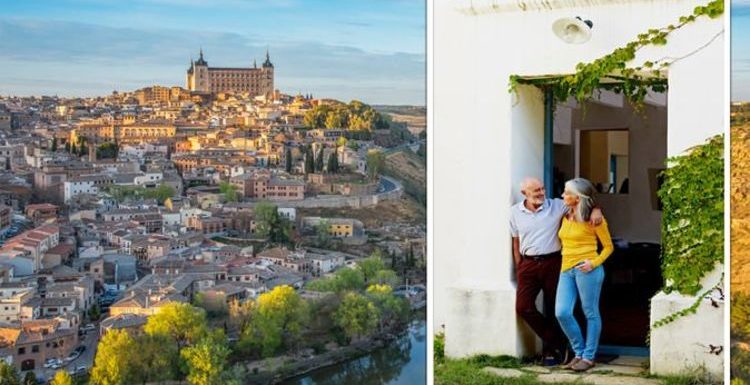 Simon Calder says travelling to Florida was easier the Europe
We use your sign-up to provide content in ways you've consented to and to improve our understanding of you. This may include adverts from us and 3rd parties based on our understanding. You can unsubscribe at any time. More info
While the majority of British expats choose to move to coastal areas of Spain, there are some other fantastic spots that deserve attention. Two of the cheapest areas to buy a house have now been named.
Property experts, idealista, have found the cheapest regions to buy a house in Spain in 2022.
One of the regions with a sizable amount of cheap property is the province of Toledo in central Spain.
Just a one hour drive from Madrid, the city of Toledo is the capital of the province and has an impressive amount of historical sights.
The city's Mirador del Valle is a scenic overlook with panoramic views and beautiful spots to watch the sunset.
One visitor said on Tripadvisor: "A must see place when in Toledo, the views are amazing! By car from the city centre, it was just five minutes."
The region of Toledo is famous for its ceramics with some of the area's pottery awarded UNESCO protected status.
The cheapest towns in Toledo to buy a house are Alcaudete de la Jara, El Carpio de Tajo, Cebolla, Villacañas and Sonseco.
Although some properties will require extensive renovations, there are plenty of bargains available for expats.
The next cheapest region to buy property in Spain was the southwest central province of Ciudad Real.
The capital city, also named Ciudad Real, is renowned for the Don Quixote Museum, which pays tribute to Miguel de Cervantes' infamous protagonist.
A short train journey from Madrid or Seville, Ciudad Real is a foodie capital of Spain, known for cheese and cured meats.
Nature fans will love hiking in the region's national parks, Las Tablas de Damiel and the Cabañeros.
The cheapest towns to buy property in Ciudad Real province are Almadén, Calzada de Calatrava, Malagón, Torralba de Calatrava, Socuéllamos, Campo de Criptana and Almodovar del Campo.
Visitors to Campo de Criptana can visit the town's windmills and even take a tour to get to grips with how they work.
They can also sample a typical dish such as migas de pastor, fried bread crumbs with chopped ham, garlic and paprika.
Toledo and Ciudad Real province might not be not right for every expat, particularly those who are more interested in being by the sea.
However, expats looking to snatch up a deal could find a great opportunity in one of the central regions.
Data from Property Guides found that Brexit hasn't put many Britons off purchasing a property abroad.
Britons looking to purchase a holiday home without residency will be able to stay in the country for 90 out of every 180 days.
They must get their passport stamped on entry and exit if they want to avoid any issues when they return.
Source: Read Full Article