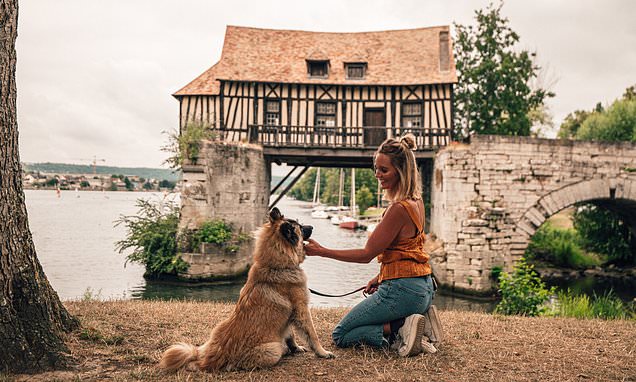 Enjoy jumper weather together: The French region that is a MUST for romantic getaways this autumn – with tips on discovering its hidden delights
Ad Feature by Explore France, Normandy Tourism & Brittany Ferries
Make your escape to Normandy this autumn, winding through idyllic villages and exploring at your own pace.
As high summer softens, it is the perfect time of year to enjoy jumper weather, exploring the stark beauty of places like Mont Saint Michel without the crowds. Maybe you could even take to two wheels, enjoying a rural cycling break and the freedom of the open road.
It's also a festive time for villages, getting together to celebrate cider season, delicious local cheeses and seafood. Whether you're seeking a sumptuous foodie break, an active adventure or an enchanting rural escape, Normandy offers a world of variety on your doorstep.
A picturesque getaway for you, your partner and everyone else in your roost – Normandy has it all, from food festivals to museums (Pictured: Moulin de Vernon)
Sail with Brittany Ferries, and your holiday begins when you step aboard, with fantastic food, duty free shopping and even your own cabin for a little more privacy, if you prefer.
Fill up your car, perhaps even bring your bike, then enjoy the independence of exploring at your own pace. When you step aboard your ferry, make your way to the eateries to try local food prepared with care by expert French chefs.
Make your journey even easier by booking gites, cottages or hotels through Brittany Ferries before you travel – with a special discount available for getaways this autumn (details below). With your complete trip organised in one convenient package, all you have to do is sit back and enjoy the journey. 
The easiest way of escaping the everyday: Brittany Ferries make travelling with everything you need simple – giving you independence to craft your own perfect holiday
Romantic retreats
With a great variety of charming places to explore, autumn is the perfect time to soak up Normandy's authentic atmosphere.
Mont Saint Michel is France's second most-visited monument, a cascade of stony walls and buttresses visible from miles around, topped by a Romanesque abbey and crowned with a tapered spire. Outside of peak summer months, you'll enjoy it as it should be. Consider an overnight stay to truly experience the tranquillity of this medieval masterpiece, perched atop a striking tidal island.
Nestled along the coast, the seaside town of Etretat is famed for its striking rock formations and white cliffs. Here you can immerse yourself in traditional village life, marvelling at the magnificent scenery that inspired some of the greatest Impressionist painters, from Claude Monet to Eugène Boudin.
The City of a Hundred Steeples: Rouen is a Medieval masterpiece waiting to be explored (Pictured: Gros Horloge, Rouen)
Or why not plan a short break to the medieval city of Rouen? It is known as the City of a Hundred Steeples and offers the perfect romantic escape. Admire gems of Gothic architecture as you stroll past delightful bistros and boutique shops, or seek out unique treasures in the magical Antique District.
Fabulous foodie breaks
Normandy comes alive in autumn with a selection of fantastic food festivals to explore. From cider and cheese to seafood, there are plenty of mouth-watering delicacies to be discovered.
To celebrate the humble apple, head to the cider festival in the pretty village of Beuvron-en-Auge on October 22. Or in Le Sap from November 11-12, you can discover cider-making methods, savour local delicacies and enjoy dancing shows as the sunset paints the streets gold.
Huitres anyone? Grab an oyster at Chez Lili for a delicious seaside afternoon (Picture: Le Havre)
Food markets are a staple of this corner of France, each full of delectable produce to peruse (Pictured: Honfleur) 
The noble home of Camembert, Normandy has a proud history of cheese. Visit Neufchâtel on September 17, where you can join locals in celebrating the delicious cheese of the same name.
The seafood festival season also begins in earnest in October, with more than 50 stalls in the old port of Granville from October 7-8. For something more offbeat, visit the shrimp festival in picturesque Honfleur from October 14-15 for rip-roaring sea shanties and shrimp peeling competitions.
From cobblestone villages to vibrant port towns, keep an eye out for local food festivities to add a little extra flavour to your immersive Normandy adventure.
An arty escape
Normandy's unique natural light, dramatic weather and spectacular scenery gave birth to the Impressionist movement in the tumultuous 19th Century. Seeking a rural respite, artists arrived from Paris and beyond, setting up their easels along the banks and shores of Normandy and, in doing so, sparking a revolutionary new form of art.
Fancy yourself an art aficionado? Normandy is most definitely the place for you (Pictured: Valleuse de Vaucottes)
Begin your Impressionist journey in quaint Etretat, depicted by Monet, or the port of Le Havre, captured by Pissarro. Search for Renoir in the harbour of Dieppe, or seek out Boudin's haunting grounds in the maritime town of Honfleur.
From witnessing the romantic landscapes that inspired these painters to admiring timeless creations in Rouen's Museum of Fine Arts and Giverny's Museum of Impressionism, weave artistic heritage into your autumnal countryside escape.
Action and adventure
For couples seeking an active adventure, the best way to explore Normandy's rolling countryside, coast, and villages is with a cycling holiday. Set off on a romantic trip for two along gentle traffic-free trails, or tackle the rugged terrain together. With more than 1,000 miles of spectacular cycle routes, there is plenty to explore.
A cyclist's dream destination, Normandy is veined with traffic-free trails across rolling countryside (Pictured: Blonville-sur-Mer)
Discover hidden gems from the saddle as you explore little known French villages (Pictured: Beaumont-en-Auge)
If you're looking to hop off the bikes for a break, the Transat Jacques Vabre Normandie-Le Havre is a major event on the sailing calendar, with its grand departure on October 29.
More than 60 boats set out from Le Havre for a dramatic voyage to Caribbean waters, following the historic coffee route to between the West Indies and Frances's first coffee trading port. Heading to the island of Martinique, it is one of the most sensational transatlantic races in the world.
The build-up to the exciting race lasts for up to 10 days, with plenty of amazing activities and entertainment laid on in Le Havre from late October.
New experiences
Even if you've visited Normandy before, there's always something new to discover. To commemorate the 80th anniversary of the D-Day landings in June 2024, the rebuilt D-Day Museum opened in Arromanches in the spring of 2023. This museum provides a special place for remembrance and reflection about a world-defining moment in the history of our two neighbouring nations.
History buffs will enjoy the monuments dotted across the coastline – especially approaching the 80th anniversary of storming the beaches (Pictured: British Normandy Memorial)
In Sainte-Mère-Eglise, the first town liberated by American paratroopers, the Airborne Museum also offers another place of remembrance for the events of June 1944. In honour of the important anniversary, the museum has launched exclusive tours of its Reserve Collection. Take the opportunity to visit both museums in peace, before the crowds descend in 2024.
Discover the stirring romance of Normandy in autumn, evading the summer heat and crowds, to enjoy a serene visit packed with sumptuous food festivals, rural charms and evocative Impressionist landscapes. Take to the trails, explore the gentle coastline and rolling hills, and experience what this historic region has to offer.
Find out more at Normandie-Tourisme.fr
Save 15% on autumn hotel breaks with Brittany Ferries! 
Sailings to fit your getaway, Brittany Ferries offer sailings that are sure to suit your plans
Setting sail from Portsmouth to Caen, Cherbourg or Le Havre, and Poole to Cherbourg, you're sure to find the perfect sailing to fit your plans. You'll enjoy award-winning service – Brittany Ferries voted Best Ferry Company at the 2022 British Travel Awards – which makes the journey as enjoyable as your break.
Comfortable, well-equipped cabins, meals freshly prepared by a team of French chefs using locally sourced produce, and duty free shopping are just some of what's on offer onboard.
This autumn, you can save 15% on hotel breaks in Normandy*. Choose from hundreds of hotels all over the region and book through their new on-site hub. 
To claim your discount, simply enter offer code 'NORMANDY15' at check out when booking through BrittanyFerries.co.uk
*Book by 8 October for travel until 31 December 2023.
Source: Read Full Article