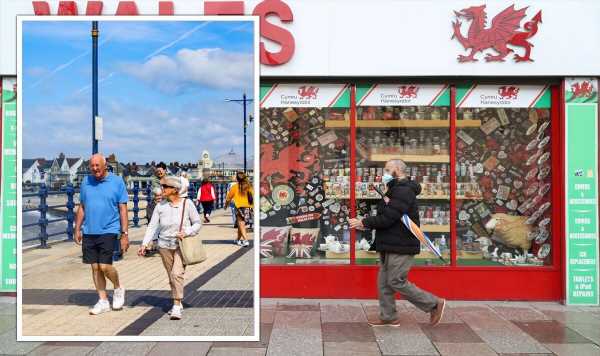 Martin Lewis issues advice on travel and refunds
We use your sign-up to provide content in ways you've consented to and to improve our understanding of you. This may include adverts from us and 3rd parties based on our understanding. You can unsubscribe at any time. More info
Tourism in Wales is a growing industry with many people travelling to popular areas such as Llandudno and Pembrokeshire. The Government believes a tax would help pay for local infrastructure and keep beaches clean.
However the idea of a Welsh tourism tax is deeply unpopular with some business owners and tourism officials.
Susy Davies, chairwoman of the Wales Tourism Alliance, told Newyddion: "Compared with people who have businesses in England or Scotland, it's just something else that will turn people away from Wales because of that."
She added that the price of a tourism tax could "tot up" very quickly for a family of four if it's priced per bed.
Richard Griffiths, who owns the Richmond Hotel in Aberystwyth said it was the "wrong time" to discuss a tax.
He said: "For Government to think it's sensible to add a tourism tax levy on top of the costs for overnight guests only… who are currently paying for their accommodation and dining out in the evenings… and say 'we want to tax you even further', it's unfair, unnecessary, and badly thought out."
However some supporters of the tax think it would benefit local areas that receive the majority of Welsh tourism.
Under the proposed plans, a charge would be applied to overnight stays in Wales but it would be up to local authorities whether to apply it.
The exact fee that holidaymakers could be charged has yet to be decided but in Europe is often around £1-2 per night.
In 2019, there were just over one million international tourist trips to Wales and over 87 million day trips according to the Welsh Senedd.
Many tourists choose to visit Llandudno, Conwy or Pembrokeshire to enjoy the stunning beaches.
Capital city, Cardiff is also growing in popularity as a city break destination and is easily reached by train.
The Welsh Government said: "Tourism levies are common around the world and the revenue is used for the benefit of local communities, tourism and businesses.
"We will consider all comments as part of the consultation this autumn.
"The Senedd will need to approve the process carefully and develop the proposals for a tax, turn that into legislation and implement it and it will take many years."
However, the plans come as some tourism chiefs have expressed fears the UK staycation boom is over.
Tourism groups in Snowdon have said there aren't as many people around while others have said weekly footfall is down at attractions.
Many Britons may choose to holiday abroad this year since travel restrictions around the globe have been relaxed.
Others may decide to forgo a holiday due to the rising cost of living and extreme rises in the price of energy and everyday essentials.
Malcolm Bell of Visit Cornwall told Express.co.uk he expected numbers to be down this year compared to 2021.
Bell said he thought many people would choose to holiday abroad now that tests have been ditched.
Source: Read Full Article