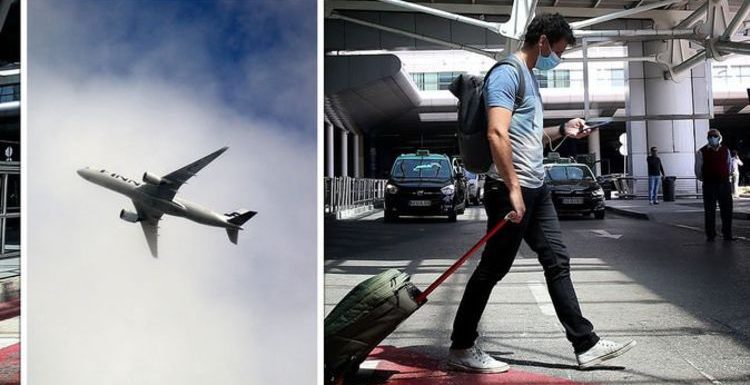 Martin Lewis discusses travel refunds and PCR tests
We use your sign-up to provide content in ways you've consented to and to improve our understanding of you. This may include adverts from us and 3rd parties based on our understanding. You can unsubscribe at any time. More info
Britons are unfazed by recent travel bans, according to experts, with people still excited for a festive holiday. The recent furore surrounding the Omicron variant, they believe, has not left people or travel companies any worse off. Both have considerable reserves, and neither are discouraged as Christmas approaches.
Speaking to Express.co.uk, Seamus McCauley of Holiday Extras, airport commodity specialists, said his company had found "almost no impact" on holidaymakers' plans from the recent news.
Holiday Extras polled 1,500 people in September and again this month following the bans, and found barely any people had changed their plans.
Only two percent of people appeared to have lost their confidence about travelling in the current climate, with 90 percent of people still intending to travel, down from 92 percent in September.
Mr McCauley said people are more flexible and aren't worried they will lose their booked trips.
He said: "People have got used to the idea that travel plans might have to change, and that there's extra paperwork, and they're making their plans with that in mind.
"So they're sensibly booking flexible products.
"More of them are booking with a travel agent to take advantage of that expertise. But they're still booking."
The same goes for travel companies, which are equally bullish despite the looming potential bans.
James Lynn, Co-Founder of Currensea, a company responsible for the UK's first direct debit card for travel, said the news initially sparked "dismay".
But the appetite for travel identified by Mr McCauley has left the industry optimistic.
Mr Lynn said: "The industry has taken a battering over the last couple of years, and the recent travel u-turn will have been met with dismay by many travellers.
"However, the industry is optimistic that people's desire to travel remains unabated with many having saved sizeable travel savings pots after no overseas trips for two years."
"UK travellers already have their bags packed, and as long as flights are still taking off, they will be heading off on holiday."
Mr Lynn added that the new Covid-associated costs would leave some would-be travellers looking for cheaper options.
He said: "With the cost of PCR tests back again, travellers will also want to find ways to save on other costs – whether that's cheaper accommodation or savings on foreign exchange fees."
Anyone intent on leaving the UK for the Christmas holidays will have to prove they are Covid negative first with a pre-departure test at the airport.
They will have to do the same on their return and isolate ahead of day two testing results.
Depending on the company, tests can be expensive, costing more than £40 each in some cases.
The number of potential holiday destinations may soon shrink, with cases of the Omicron variant increasing across the board, including in the UK, where officials reported 73 last week.
Ministers confirmed they would consider taking further action if other countries saw their caseloads increase but have yet to announce additional entries to the revamped red travel list.
Source: Read Full Article