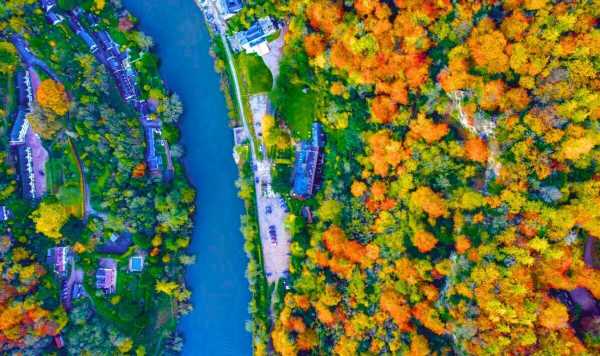 Are you dreaming of a beautiful autumn holiday? One of the UK's protected landscapes has been named the best place in Europe to see leaves change colour this October. 
Wye Valley sits on the border between England and Wales and is an area filled with pretty woodlands, breathtaking views and the River Wye, Britain's fourth largest river, also runs through the valley. 
According to CN Traveller, Wye Valley is also the best place in the whole of Europe to walk through and see the leaves change colour at this time of year, as it has become the leading "leaf-peeping destination."
They wrote: "There are more than 20 million trees in the Wye Valley and Forest of Dean, the reason perhaps that it's becoming known as the UK's leading leaf-peeping destination….the autumn colours of oak, ash and beech trees will line the path in gold from October to early November."
However, this spectacular natural beauty is also rich in history with plenty of castles, villages and market towns scattered throughout the area, so here are some of the most notable places to stay if you wish to travel to Britain's ultimate autumn staycation point. 
Ross-on-Wye
Ross-on-Wye is a pretty market town which lies on the northern edge of the Forest of Dean. The area is a fun place to visit in autumn as it area was historically part of the ancient Celtic kingdom 'Ergyng' (Archenfield) which means 'Land of the Hedgehogs' and the woodland creature has now become the symbol of this quaint town. If you travel there, you will find hedgehogs depicted all over the town's architecture such as in stained glass windows, painted on buildings and even curved into wood. 
This charming town is known to have thirteen specialist shops which have become known as the Vintage Shopping Trail which sell a series of fascinating items such as vintage clothes, antiques, and collectables as well as give a fascinating history of the town. 
This picturesque town is littered with many historical points of interest as Ross-on-Wye suffered from the plague as well as being a site of the Battle of Wilton Bridge during the English Civil War. Those interested in learning more about the local area can visit the nearby Goodrich Castle, one of England's best-preserved medieval castles, plus the romantic-style Eastnor Castle, which is surrounded by a beautiful deer park and lake.
Symonds Yat East and West
We use your sign-up to provide content in ways you've consented to and to improve our understanding of you. This may include adverts from us and 3rd parties based on our understanding. You can unsubscribe at any time. More info
Symonds Yatis said to be the most beautiful place in the whole of Wye Valley due to its incredible views of the area, but located within this picturesque place are the two villages Symonds Yat East and Symonds Yat West on either side of the River Wye. 
The only way to travel to both these stunning villages is by taking a ferry across or by going on a very long drive around the river. Due to their locations, both villages are very popular for their canoeing guided tours in which you can travel along the river to see the area and even look out for the local wildlife such as Wild Peregrines birds which are thought to nest nearby. 
Both villages are located near King Arthur's Cave, and legend says the skeleton remains of a 'giant human' were found in the cave in the 1700s and has become a point of superstition and ghost stories. However, the cave has also been an area with important archaeological discoveries as it is believed it is only one of five caves in the UK used as a shelter since 80,000 BC in the Upper Palaeolithic era. Archaeological digs have found evidence of flint tools, hyenas and even a woolly mammoth and saber-tooth tiger remains. 
However, the local area is known for its butterfly conservation zoo and Jubilee hedge maze, which is known as one of Britain's most famous traditional hedge mazes, as well are being known for its rock climbing, golf, and fishing so there is always something to do in this fantastic location. 
Don't miss…
Best TUI deals on flights and holidays[INISGHT ]
Britain's best seaside destination for autumn sun has 'beautiful beaches'[REVEAL]
Europe's cheapest city break unveiled[LATEST]
Tintern
Tintern Village is said to be the jewel of Wye Valley as it has become a popular place to visit due to its stunning natural beauty. It has become known for having one of the most incredible views of the River Wye from a nearby cliff point called The Devil's Pulpit. 
The village is situated adjacent to the historic Tintern Abbey, which has inspired the poet William Wordsworth and been featured in the painting of the romantic artist JMW Turner. This Gothic atmospheric landmark was built in 1131 by Cistercian monks and has become one of Britain's architectural icons and one of its most photographed sites. 
Legends and folk tales about the village say that the devil preached to monks from the abbey to try and get them to abandon their order, making it a popular place to visit for those who like ghost stories. 
However, Tintern Village is also known for its beautiful walkways, and one perfect autumn stroll is through the Parva Farm Vineyard in which you can see amazing views of Wye Valley while also sampling some award-winning Welsh wines and meads. There are also many teashops, bakeries and cosy pubs in the area to relax after going on the area's many nature trails. 
Hay-on-Wye
Hay-on-Wye, nicknamed the 'Town of Books', is famous internationally for being one of Britain's quirkiest towns as the area is known to have bookshops on almost every corner, and people from around the world travel to the town for the Hayes Book Festival, which is celebrated twice a year both in the summer and wintertime. 
The town has a unique bookshop catered for every bookworm. From the bright yellow Murder and Mayhem bookstore which specialises in murder mysteries, to the antique bookstore Francis Edwards which has an inventory of over 10,000 vintage books, and there are even books for sale outside or in the town's cinema. 
Outside the of bookshops, the town is beautiful due to its cobblestone streets and magnificent Norman castle ruins which are in the heart of Hay-on-Wye. This charming town is worth a visit but try to travel there of a Thursday, which is when the town's weekly Market Days is on when there will be over 40 traders selling local produce. 
Source: Read Full Article