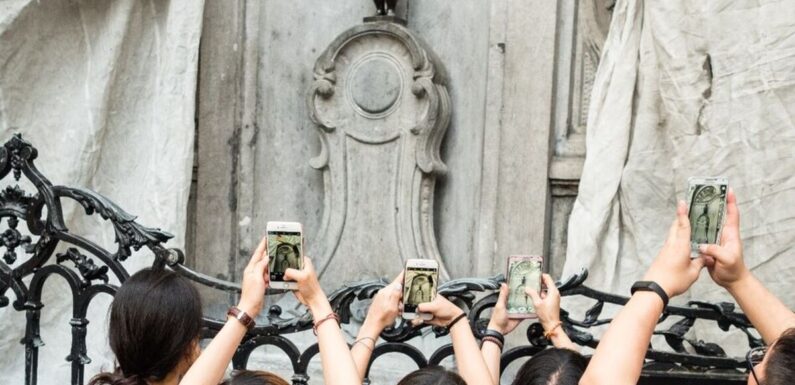 Cobbled streets, artisan chocolate and an UNESCO registered square, it's not hard to see why Brussels attracts over one million tourists a year. The Belgian capital is under two hours away from London by train.
However, one of the city's top attractions has been slammed by visitors who said the famous landmark was "overrated" and "rather disappointing".
One of the world's more unusual statues, Manneken Pis is a tiny bronze fountain which depicts a small boy urinating into the basin. Just 55cm tall, the unique fountain is thought to date back to the 15th century.
Although the young boy is nude, tourists won't always find him naked. The figure has over 1,000 costumes and is regularly dressed up in different outfits.
However, despite Manneken Pis being one of Brussels' top attractions, the landmark has left many tourists disappointed. One visitor warned others not to bother going.
READ MORE 'Mysteriously beautiful' lake hides flooded abandoned town in Italy
The tourist 'Judy S' wrote on Tripadvisor: "Don't bother…overrated and overcrowded! We arrived at the statue and found at least 100 others trying to get their picture taken with this tiny statue behind them. It was underwhelming at best and can easily be skipped."
Another tourist 'angelahughes4' said: "Interesting only because it is so well known. Rather disappointing, tucked away literally on a street corner."
'Mark' wrote: "Literally a two minute trip to see what he is dressed up in and then get a quick picture. Don't see what all the hype is about, actually find it a bit weird and even more so there are replicas in every shop window about the city."
‌
Don't miss…
Cruise guests issued warning over last minute itinerary changes[CRUISE]
'Spectacular' British coastal walk includes stop at 'magical' beach[STAYCATION]
Spanish region with the most British expats named – full list[EXPATS]
We use your sign-up to provide content in ways you've consented to and to improve our understanding of you. This may include adverts from us and 3rd parties based on our understanding. You can unsubscribe at any time. More info
But who is Manneken Pis? Several legends circulate around the origins of the mischievous peeing boy. The most famous suggests the cheeky lad is an infant lord whose troops were engaged in battle.
The army placed the toddler in an oak tree overlooking the battlefield. As his men struggled during the battle, the tiny tot rose from his basket and urinated on the enemy.
His unique battle technique helped his armies conquer the enemy and the incident was memorialised in the Manneken Pis fountain. Another popular legend suggests the boy helped extinguish a fire by urinating on the blaze.
Whoever the statue represents, many tourists felt the fountain wasn't one of Belgium's top attractions. Tourists recommend exploring the city's majestic Grand Place or the Fine Art museum.
Manneken Pis isn't the only famous attraction to leave tourists underwhelmed. Travellers have said they struggled to enjoy Versailles Palace due to crowds.
Cinque Terre, recently named the world's most beautiful village, left some tourists feeling like "sweaty sardines" due to the overwhelming number of visitors.
Source: Read Full Article