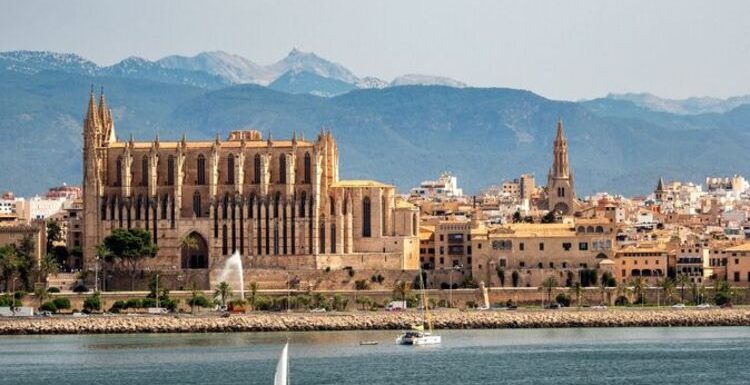 Jane McDonald says travel series is the 'best job in the world'
We use your sign-up to provide content in ways you've consented to and to improve our understanding of you. This may include adverts from us and 3rd parties based on our understanding. You can unsubscribe at any time. More info
The seismic movements occured yesterday afternoon and last night. They were felt in Marratxi, Santa Maria and other towns in the Raiguer region in the north and west of the Spanish island.
The earthquakes lasted for a few moments with one at 7.40pm and then a second stronger quake at 9.40pm.
Police said there were luckily no injuries or damage but so many people reported the shaking lines were blocked.
Many believed a bomb had gone off leading police and firefighters to search the area.
Local residents took to social media to share their reaction to the shocking earthquakes.
One said: "The floor of the house has trembled, the second aftershock has been much stronger."
Another said: "What a scare, everything has shaken."
People in the capital, Palma, also felt the unexpected tremors.
One Twitter user said: "What is happening in Mallorca in the Marratxi area? Broken glass, strange smell, twice like an earthquake, no one confirms (or denies) seismicity or explosions."
Another said: "Around 9.30pm, we noticed something in parts of Mallorca, a rumble, the ground has shaken, everything has shaken but they say it was not an earthquake, what happened?"
At first The National Geographic Institute dismissed any earthquake but later confirmed two tremors.
The first was a magnitude 2.2 on the Richter scale and occurred in Deià on Mallorca's west coast.
The second was 2.5 magnitude and hit Bunyola at 9.36pm, also located on Mallorca's western coastline.
In Santa Maria, there was "quite an alarm" according to the fire department. The National Geographic Institute already confirmed a magnitude 2.4 earthquake in the Mediterranean Sea between Catalonia and the Balearic Islands last Monday.
Mallorca has been hit by earthquakes in the past, with the most serious recent quake in 2003.
An earthquake which reached 6.7 on the Richter scale caused panic in Mallorca, although the epicentre was in Algeria.
The earthquake was especially noticeable in Mallorca's capital Palma and in the municipalities of Inca, Manacor and Muro.
Mallorca is an extremely popular holiday destination with British tourists and many travel there every year.
This year, British tourists will be subject to new restrictions on drinking in some areas of the island.
Party resorts, such as Magaluf, have brought in new bans on all-you-can-drink deals and booze cruises.
The popular resort is aiming to combat its reputation as a hedonistic destination and attract a new type of tourist.
easyJet recently issued a warning for British travellers about the new holiday rules in Magaluf.
Additional reporting by Rita Sobot.
Source: Read Full Article