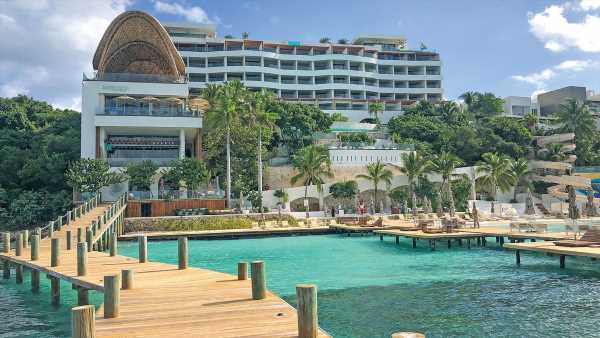 ISLA MUJERES, Mexico — The Impression Isla Mujeres by Secrets resort aims to position itself as "the pinnacle of luxury all-inclusive."
It's a lofty claim, but as I sat on the terrace of the property's Unik The Kitchen rooftop restaurant, a plate of perfectly seared scallops atop a parsnip puree in front of me and the lights of Cancun's Hotel Zone twinkling across the water, it certainly felt valid.
What constitutes the pinnacle of luxury all-inclusive may be subjective, but at the 125-room Impression Isla Mujeres, which I visited in early November as part of a media trip, the benchmark translates into a blend of boutique, bespoke hospitality with all the bells and whistles of a high-end, all-inclusive concept.
Opened earlier this year, the Impression Isla Mujeres is the second all-inclusive to debut as part of the adults-only Impression by Secrets brand, originally launched by Hyatt Hotels Corp. as a Secrets Resorts & Spas offshoot.
It's also the first Impression to be built without free-flow access to a larger, neighboring sister all-inclusive within Hyatt's Inclusive Collection portfolio.
The result is a secluded and intimate feel, enhanced all the more by the fact that the only way to access Isla Mujeres, a five-mile-long sliver of an island roughly 25 miles off the coast of Cancun, is by boat. The Impression Isla Mujeres makes the most of this fact by offering guests complimentary roundtrip boat transfers, via either the resort's catamaran or speedboat, direct to the property's private dock. 
While poor weather thwarted my own private boat arrival, and I was rerouted by ferry to the island, the skies and sea were tranquil for my departure. Checkout day is always a bit bittersweet but getting to hop aboard a speedboat as part of the process certainly helped take away some of the sting. 
Also adding to the resort's boutique cachet is its high-end design, which seamlessly combines Mediterranean-inspired architecture — think whitewashed stone arches and cascading steps reminiscent of Santorini — with traditional Mexican materials and locally crafted decorative elements.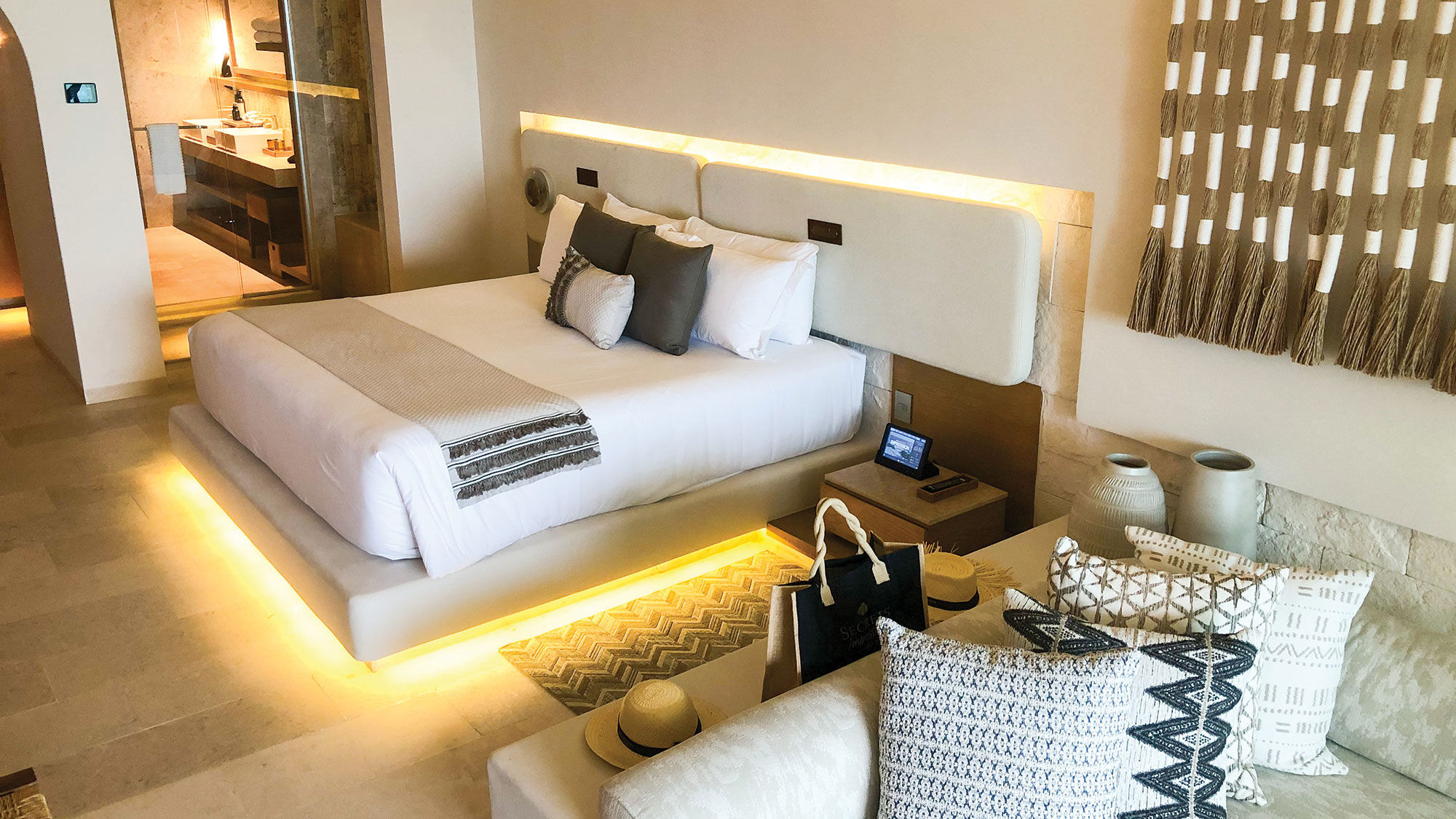 In the guestrooms details abound, from aesthetic features like a textured accent wall and intricately woven art to more practical additions like automatic window shades that close at the touch of a button and convenient bulk-size bath amenities from cult-favorite perfume brand Le Labo. 
In my own Signature Junior Suite King Ocean Front accommodation, the standout element was the exceptionally private balcony space. Outfitted with a hot tub and cozy built-in couch, the crowning touch was a woven hammock, which offered an ideal perch from which to gaze out at the turquoise waters of Mexico's Caribbean coast.
Also notable is the fact that exploration beyond the resort gates is not only an option here but is encouraged. The Impression Isla Mujeres has a fleet of electric bicycles at the ready, with a complimentary morning bike tour available daily, stopping at various landmarks across the island, including a local cemetery.
Many complimentary, on-site activities — including yoga, stretching and crafting sessions — are also offered throughout the day.
These boutique-style features, however, are enhanced by a vast array of more traditional all-inclusive staples available on site. Despite a more compact footprint, the Impression Isla Mujeres is home to multiple pools; a full-service spa; a stretch of private, man-made beach; a four-story waterslide; and seven restaurants and five bars, making it nearly impossible to sample every option and experience over the course of a weekend stay.
For guests who want all the choice associated with an all-inclusive without sacrificing a more intimate and luxe setting, Impression Isla Mujeres strikes the right balance.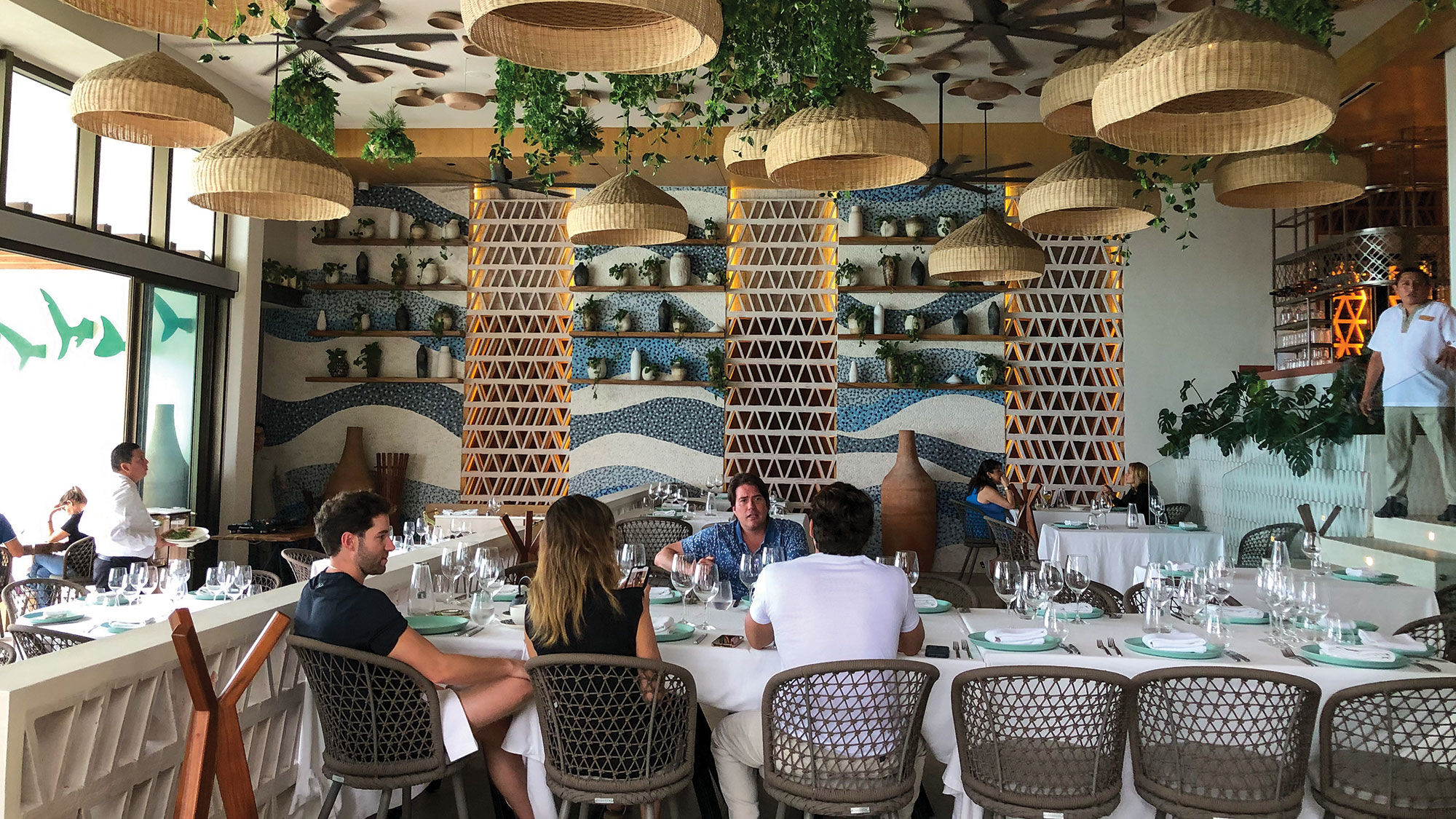 A high-end haven in the making
Isla Mujeres may boast proximity to one of Mexico's top tourist hot spots, but the island still retains a reputation of being somewhat off the beaten path.
According to Alex Zozaya, former CEO of Apple Leisure Group and owner of the Impression Isla Mujeres, the destination has the opportunity to develop into a premier luxury market. During a chat with media, Zozaya likened Isla Mujeres' potential to that of Formentera, a Spanish island located just south of Ibiza.
"Ibiza is the Cancun of Europe, but Formentera is pristine, beautiful and super high-end," said Zozaya, adding that Isla Mujeres, "with good product," could achieve the same level of prestige.
The debut of the Impression Isla Mujeres, which commands one of the highest nightly rates on the island, has certainly given the destination a jump-start. And more projects are in the pipeline, with Zozaya citing a nearby development under construction that's expected to join Marriott International's Luxury Collection.
"We're changing the tourism in Isla Mujeres," said Zozaya. "We're seeing nicer restaurants and nicer beach clubs, and so, I think it's the start of something." 
Source: Read Full Article