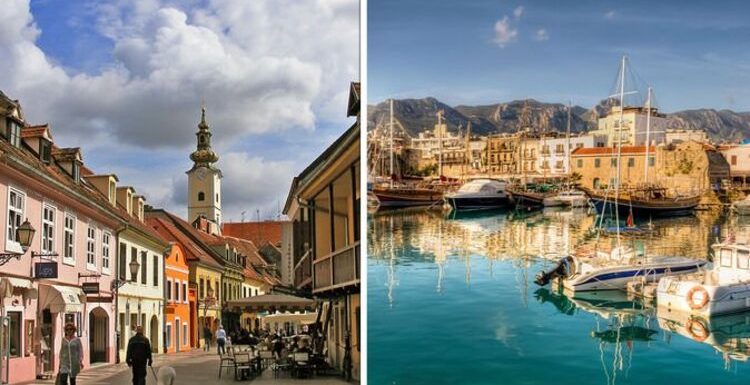 We use your sign-up to provide content in ways you've consented to and to improve our understanding of you. This may include adverts from us and 3rd parties based on our understanding. You can unsubscribe at any time. More info
Many expats choose to enjoy their retirement in a warm and sunny location, but most want to stay close to home. What are the cheapest European countries?
New research by CIA Landlord revealed the cheapest cities to move to, with an average rent under £450.
According to the study, Sarajevo is the most affordable European capital to relocate to.
Sarajevo offers Britons warm weather in summer, rich culture and low property prices.
A one-bedroom flat in this Bosnian capital has an average price of £224.86 a month.
Outside the city centre, Britons can find a property for just £147.49 per month.
The capital of Montenegro, Podgorica, is the second cheapest European city to rent a property. Britons can rent a house for £​​276.40 on average.
Three of Britain's favourite holiday destinations, Greece, Croatia and Cyprus, are also among the cheapest places to relocate to.
Expats can rent a home in Athens, Greece, for £362.62 per month, while a property in beautiful Zagreb, Croatia, costs £411.86 per month on average.
Tripadvisor user @186SS186 said: "Zagreb is fabulous! Such an amazing city with a great vibe. I can't wait to go back and enjoy evenings on Tkalciceva."
For those Britons who are looking to buy a property, there are a few cities they should avoid.
Monaco, Hong Kong and Singapore are the most expensive cities in the world for buyers.
The average price per metre to buy in Monaco is 62,860.27 while renting a property is £2,973.12 on average.
Cheapest cities with rent under £450
Sarajevo, Bosnia and Herzegovina
Podgorica, Montenegro
Tirana, Albania
Sofia, Bulgaria
Belgrade, Serbia
Budapest, Hungary
Athens, Greece
Bucharest, Romania
Zagreb, Croatia
Nicosia, Cyprus
How well do you know France?
With the country having eased its restrictions for Brits, put your knowledge of France to the test with our quiz. Bonne chance!
How many countries does mainland France share a border with?What is France's northernmost point called?How many overseas departments does France have?On average, how many tourists visit France every year roughly?When was the French Revolution?You're clueless
C'est tragique! Your knowledge of France could do with some brushing up.
Comme si, comme ça
You know a thing or two about France, but you're not quite an expert
French expert!
Sacre bleu! You know everything there is to know.
Most expensive cities to buy a property
Monaco, Monaco
Hong Kong, Hong Kong
Singapore, Singapore
Beijing, China
London, United Kingdom
Paris, France
Libreville, Gabon
Luxembourg, Luxembourg
Taipei, Taiwan
Dakar, Senegal
Source: Read Full Article