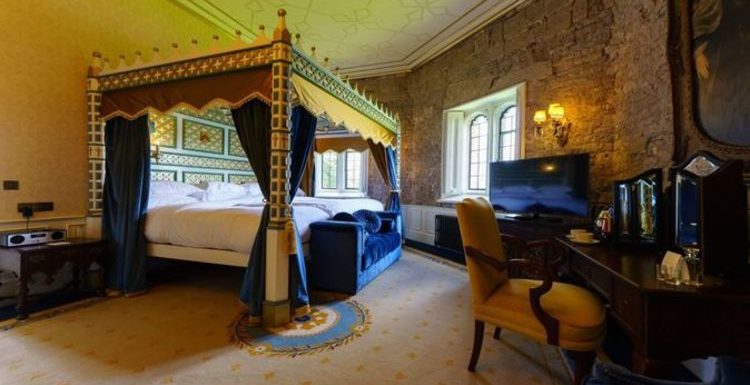 The Hotel Inspector: Alex Polizzi discusses filming before Covid
We use your sign-up to provide content in ways you've consented to and to improve our understanding of you. This may include adverts from us and 3rd parties based on our understanding. You can unsubscribe at any time. More info
Situated in the south side of Gloucestershire, this beautiful 16th century building boasts some very famous regal guests who choose this castle as their honeymoon getaway. For 10 days in 1535, King Henry VIII and his second wife, Anne Boelyn, occupied the bedchamber in the Castle Tower and where you can also request to sleep.
Following a multi-million pound refurbishment programme in spring 2021, Thornbury Castle is the only Tudor castle in the UK which operates as a hotel and restaurant.
Located near Bristol and surrounded by 15 acres of walled gardens, guests can choose from 27 carefully-restored bedchambers.
Each room is named after key figures from Tudor history, whether it is 'De Percy' or 'De Clare', each room ensures an intimate, personal experience for all.
Decorated with traditional and distinctive castle features, many of the rooms are decorated with four-poster beds and stone-carved fireplaces.
Thornbury Castle was originally built by Edward Stafford, the only man to rival King Henry's wealth and status at that time.
It was a display of wealth and ambition that Henry did not take kindly to, and after Stafford was found guilty of treason, His Majesty took control of the castle.
Visiting guests can also enjoy a variety of traditional and modern medieval activities to make them feel they have travelled back in time.
Choose from bespoke historical tours, axe throwing, sword skills, archery, falconry, croquet on the lawn and even the opportunity to 'Become a Tudor Queen' for the day.
Make sure to feast like a true British monarch during your stay at the castle's restaurant with a selection of British-inspired dishes, with many of the ingredients are grown osnite.
If you've ever dreamed of living like royalty, this aristocratic hotel is a must-have visit.
Click here to book your stay, visit Thornbury Castle.
DON'T MISS:
£300m crypto seizure sent stark message to 'bad actors' says expert [REPORT]
Freddie Mercury wrote his Elvis Presley tribute song in 10 mins WATCH[ VIDEO]
Statins do more good than harm, according to risk-benefit review [REVEAL]
Source: Read Full Article