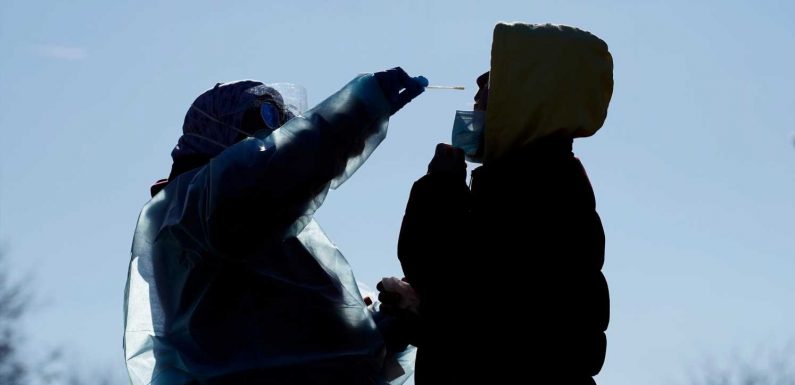 Travelers boarding flights within the United States during the coronavirus pandemic don't have to show proof of a negative COVID test.
Passengers simply have to acknowledge, via an on-your-honor airline questionnaire, that they don't have COVID-19 or any symptoms, haven't been recently exposed to someone with the virus and will wear a mask. One airline, Frontier, takes passengers' temperatures, and some airports, including Los Angeles International, do temperature screenings.
But with COVID-19 case rates in the nation still extraordinarily high and faster spreading new variants raising concerns, the new Biden administration is pondering strict new travel restrictions.
On the table, a top official with the U.S. Centers for Disease Control and Prevention said this week, is a COVID testing requirement for domestic flights. Until now, the CDC has only recommended getting tested before and after travel.
"We are actively looking at it," Martin Cetron, director of the CDC's Division of Global Migration and Quarantine said about testing for domestic flights in a call with reporters.
His comments came the same day a COVID testing requirement went into effect for all passengers boarding international flights to the U.S. Travelers will be denied boarding unless they provide a negative test result taken no more than three days prior to their flight or show proof of recovery from COVID-19 in the past three months.
Cetron noted that President Joe Biden's executive order last week on promoting COVID-19 safety in travel covered public health measures for domestic travel as well as international travel. One of the first initiatives: a mask mandate on airplanes, trains and other modes of transportation.
Cetron did not provide any specifics on how a domestic COVID testing requirement would work and who would enforce it. (Airlines are tasked with enforcing the new international flight testing requirement.) But he said officials are encouraged by an increase in testing options and capacity.
"I think this is a really important part of our toolkit to combat this pandemic," he said.
One place officials will likely be looking at for guidance on how a testing requirement on domestic flights would work: Hawaii. 
Since October, the state has allowed U.S. travelers who present a negative COVID test upon landing to bypass its strict, mandatory quarantine. 
There have been hiccups to the program, with some travelers complaining they didn't get results in time and had to cancel their trip or quarantine, but the number of testing options has gradually increased as Hawaiian Airlines, United Airlines, Alaska Airlines and other carriers have developed partnerships with testing providers to make it easier for travelers to obtain tests.
Hawaiian CEO Peter Ingram said Tuesday that testing provides a way to "safely build back tourism."
Source: Read Full Article