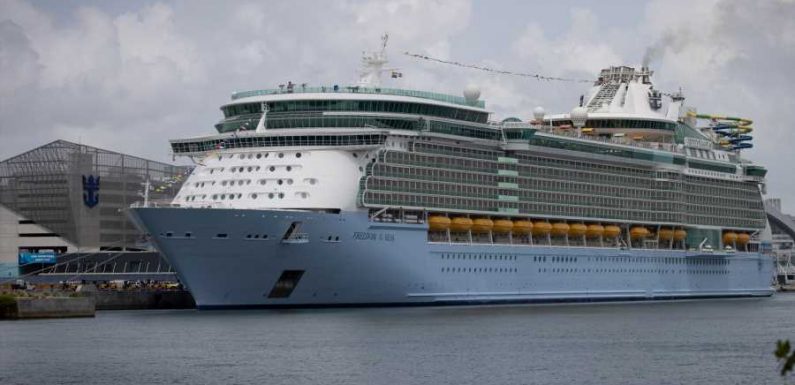 Royal Caribbean completed a simulated cruise with volunteers this week – a significant step in getting its ships back out to sea for the summer season.
The cruise line sailed with 650 Royal Caribbean employees who volunteered for the voyage on its Freedom of the Seas ship, docking in Miami, the company shared on Twitter Tuesday. Royal Caribbean was the first cruise company to be approved to start test sailings under the Centers for Disease Control and Prevention's cruise restart protocols.
Load Error
The three-day, two-night cruise sailed from south Florida and stopped at Royal Caribbean's private island in the Bahamas, CocoCay, Michael Bayley, Royal Caribbean's president and CEO, wrote on Facebook. Bayley said the company was awaiting feedback from the CDC.
The test cruise was required to carry at least 10% of the ship's maximum capacity and volunteers must agree to post-trip testing. Freedom of the Seas can accommodate a total of 4,553 passengers.
The CDC is requiring cruises in the U.S. to complete test sailings with volunteers unless 98% of crew and 95% of passengers are fully vaccinated. Royal Caribbean has made vaccines optional for guests except on sailings to Alaska.
Video: Royal Caribbean test cruise sets sail (NBC News)
Watch: Spider-Man presents Pope Francis with Spider-Man mask

NBC News


Britney Spears expected to speak out against conservatorship in court

NBC News


Indigenous tribes protest proposed law stripping land rights in Brazil

NBC News


Delta variant makes up 20 percent of new U.S. Covid cases

NBC News


Watch: Giant panda gives birth to twins at Tokyo zoo

NBC News


Cows escape slaughterhouse, stampede through California neighborhood

NBC News


Andrew Yang concedes NYC mayor's race

NBC News


Teeth whitening on the rise as mask mandates are lifted

NBC News


NFL Raiders defensive end Carl Nassib comes out as gay, makes history

NBC News


Red state police reforms hit stifling political roadblocks

NBC News


Great Barrier Reef could lose World Heritage status

NBC News


California McDonald's hosts Covid shots in underserved communities

NBC News


Sen. Whitehouse defends membership in allegedly all-white beach club

NBC News


Commuters return to office facing traffic, transit hurdles

NBC News


Bumble battles burnout by giving employees entire week off

NBC News


Steve Kornacki explains ranked-choice voting at the big board

NBC News


Watch: Spider-Man presents Pope Francis with Spider-Man mask
Spider-Man gave Pope Francis his very own mask as the two famous figures greeted each other at the end of the pope's weekly audience on Wednesday.


NBC News



Britney Spears expected to speak out against conservatorship in court
Britney Spears is expected to make a statement about her father's controversial conservatorship over her estate, which has been in place since the singer's public mental health crisis in 2008. NBC News' Danny Cevallos breaks down what to expect from the Spears' statement and how the legal process around conservatorships works.


NBC News



Indigenous tribes protest proposed law stripping land rights in Brazil
Indigenous tribes members armed with bows and arrows clashed with police during a protest outside Brazil's National Congress opposing a proposed bill the Indigenous protesters say would limit recognition of reservation land.


NBC News

Any passenger who wasn't vaccinated had to show written documentation from a health professional or self-certify that they were not at increased risk for COVID-19.
"It's been a long 15 months, and we're really excited to get back to cruising again and get started," Laura Hodges Bethge, the senior vice president of Shared Services Operation at Royal Caribbean Group, told the Miami Herald. "This is a great way for us to do that with a simulated sailing, to work with our employees and volunteers and guests to really try out all of our protocols to make sure that they're working and ensure kind of a seamless transition to revenue voyages."
A representative for Royal Caribbean didn't immediately respond to a request for comment from Travel + Leisure.
While this is a step toward resuming operations for Royal Caribbean, the cruise line suffered a setback last week when it was forced to postpone some July sailings after eight crew members tested positive for COVID-19.
Alison Fox is a contributing writer for Travel + Leisure. When she's not in New York City, she likes to spend her time at the beach or exploring new destinations and hopes to visit every country in the world. Follow her adventures on Instagram.
Source: Read Full Article