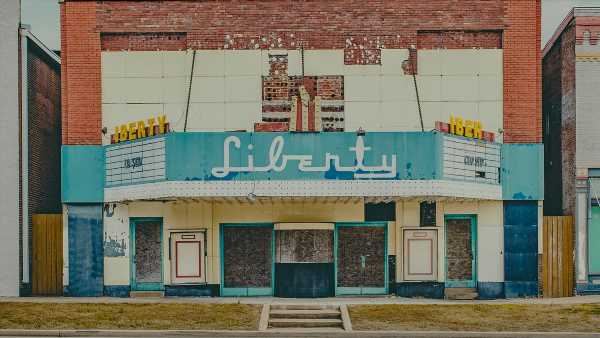 Spellbinding pictures capture abandoned America, from a 'haunted' jail to a spooky old house filled with forgotten family memorabilia
Illinois photographer Ben Geier paints a striking picture of abandoned America through his photographs 

He's particularly preoccupied by capturing relics of the 1950s, as he says they're 'fading away completely'

READ MORE: Lavish photo book shows how James Bond movies have been sparking wanderlust for decades
A 'haunted' jailhouse in Indiana, a dilapidated cinema in Texas and an Illinois car graveyard. 
These are some of the abandoned sites that photographer Ben Geier has captured, with his nostalgia-infused photography drumming up an ever-growing following on Instagram. 
The Illinois native, 42, reveals his motivation is to 'preserve or document' abandoned spaces in the U.S, with a particular focus on relics from the 1950s. He says: 'We are on the brink of that era fading away completely, so I'm trying to see and document as much of it as I can while it's still here.' 
Ben, who also runs a marketing agency, dedicates his weekends to exploring rural areas in the U.S in the hopes of discovering subjects to photograph. In the abandoned properties he has photographed, he has discovered 'shocking things like mummified cats, body casts, [and] nude polaroids', he reveals. 
But what strikes fans of his work the most, he says, is 'all the family photos, relics, and 8mm reels' left behind. 'That kind of stuff is so important to individuals and families, it's confounding that anyone would leave these things behind,' he says.
Ben continues: 'I get an overwhelming response [about] how the imagery makes people feel sad, which I get to an extent, but I also find the scenes to be really pretty. I think the way I capture things is a nice memorial to the people and families that once lived in the spaces.' While the majority of Ben's work deals with abandoned spaces, he also captures retro buildings and landmarks that act as a window into America's past – scroll down to see a selection of work from his spectacular portfolio…
This picture shows the Old Whitely Jail in Columbia City, Indiana, which dates back to 1875. Ben notes that it's 'not truly abandoned anymore' as it's currently used as a haunted house attraction. It's speculated that the building is haunted by a man named Charles Butler who shot his wife to death in 1883
LEFT: This abandoned house in mid-west America is 'mostly empty and gutted now but still has an incredible exterior', Ben says. RIGHT: With ivy crawling up its walls, this abandoned house was discovered in Iowa
This image shows the abandoned Liberty Theater in Vandalia, a city in Illinois. It opened around 1910 and stopped operating in early 2008, the website Cinema Treasures reveals 
LEFT: This eye-catching image, a favourite of Ben's, shows part of a recently demolished house in Illinois. The artist says he was drawn to the building 'because of the retro colours throughout'. RIGHT: This book-filled picture shows a recently abandoned house in Illinois that previously belonged to two teachers
This colourful shot shows Wallace Theatre, located in the small city of Muleshoe in Texas. It's from Ben's 'Abandoned Theatre' photo series
LEFT: This eerie picture shows an old Estonian Lutheran church on the outskirts of the Wisconsin town of Gleason. The church was founded in 1914, the website Estonian World reveals. 'In my opinion, people need to put in the work to find unique locations to capture,' Ben remarks. 'Too many photographers try to shoot the same locations, with the same angles – and things start to feel monotonous. My biggest piece of advice is to develop your own style.' RIGHT: This 'gorgeous' house in Ohio has 'sadly' been demolished since the picture was taken, Ben reveals. He says: 'I spoke to the owner a few years ago and he was talking about moving it… I think it just became too much of a liability for the owner.' Highlighting some of the challenges of his work, Ben says: 'Abandoned photography is such a popular style it's over saturated. For me the challenge is creating my own style within the abandoned community, and I think I do that with my color palettes and retro elements'
This striking shot shows the Blue Whale of Catoosa, which lies east of Catoosa town in Oklahoma, along Route 66. It's one of the most popular roadside attractions along the driving route, Ben reveals. The whale was constructed in the 1970s by local man Hugh Davis as an anniversary gift for his wife 
LEFT: Ben says that he was given permission to photograph the interior of this Illinois house 'before it was burnt to the ground'. He says: 'So many houses become a liability for the owners, so it's easier for them to demolish or burn them down.' Asked if he ever feels frightened entering abandoned spaces, he says: 'I wouldn't say I'm frightened of the spaces in terms of them feeling spooky or something. I worry more about running into rabid animals, squatters, or angry land owners. Land owners typically don't care much about the historic preservation part of what I do. They see their property as a liability and want me out.' RIGHT: This green-hued picture was captured in an Illinois car graveyard that has about 30 to 40 'really great old cars', Ben explains. He adds: 'Stuff like this is so fun to shoot because of all the retro colours'
This vibrant shot shows Red Oak II, an artificial village that was created along Route 66 by the late artist Lowell Davis, Ben explains. It lies near the city of Carthage in Missouri
LEFT: Ben says that this property is probably his 'favourite' abandoned house. It's stood empty since the 80s and has 'loads of retro colours throughout', he reveals. While at first glance, the staining on the bed looks suspiciously like blood, Ben explains that it's actually 'some sort of powder residue' from a foam pillow. RIGHT: This picture shows the 'Lighthouse' gas station and cafe in the Illinois village of Thawville, which struck Ben for its 'unique bottle shape'. The photographer says people's initial reaction about what he does is 'that I'm a little crazy for doing this' adding: 'When they see my work, they come around'
Source: Read Full Article