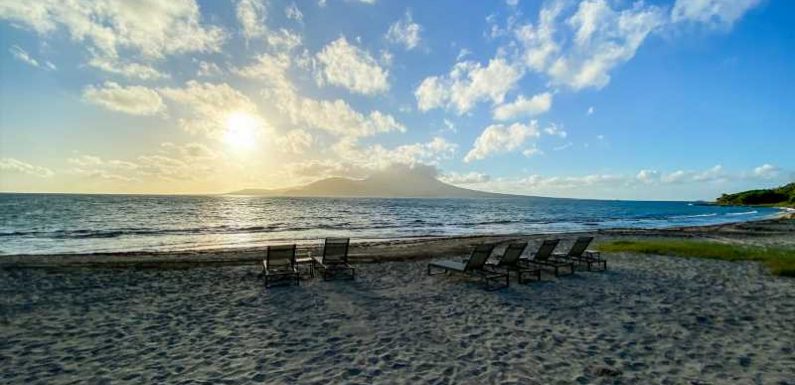 Editor's note: This story has been updated with new information from St. Kitts and Nevis. 
The Caribbean nation of St. Kitts and Nevis is allowing fully vaccinated travelers to visit the islands, and has now reduced the quarantine requirement from nine to three days for visitors. 
The islands consider travelers to be fully vaccinated two weeks after receiving their second dose of a two-dose series (e.g., Pfizer, Moderna or AstraZeneca) or after a single-dose vaccine (e.g., Johnson & Johnson). This does not apply to citizens or residents of the islands. Unvaccinated children under the age of 18 accompanied by fully vaccinated parents or guardians are also exempt. 
Additionally, all visitors must show proof of a negative PCR test result within 72 hours before arriving in St. Kitts and Nevis, a hard copy of a required travel authorization form, vaccination record card and cash for taxi fare as only approved taxis are allowed to transport travelers to their accommodations, per the St. Kitts Tourism website. Travelers to Nevis will be transferred via a certified COVID-19 sea taxi. 
Once at your hotel, you will be required to "vacation in place" for three days, which involves staying on the grounds of your lodging, although you can access restaurants and other hotel amenities. On day four, you will undergo a PCR test and are free to leave the hotel upon receiving a negative result. A third test is required two days before departing the island. If you are there for more than six days, expect to be tested on days seven and 14. 
Returning nationals will undergo health screening upon arrival, and have the choice to self-isolate for 14 days in a "vacation in place" accommodation or preapproved home quarantine so long as they pay for their own security facility and fees, followed by a test on day 14. 
For the latest travel news, deals and points and miles tips, sign up for our daily newsletter. 
In This Post
Who's allowed to enter St. Kitts and Nevis?
As of May 29, the country is allowing fully vaccinated international travelers, including Americans. Nationals and permanent residents of St. Kitts and Nevis, Caribbean Single Market Economy certificate holders and work permit holders were previously admitted in October 2020. All persons entering the islands are subject to testing restrictions and protocols, but international travelers face the most. 
Related: A guide to Caribbean reopenings 
How Americans can visit
As mentioned above, if you're visiting the islands from the U.S. or other foreign countries, you'll be allowed to enter, but you'll face hurdles before departing and once you arrive. Luckily, the country has released a very specific set of instructions to follow so that if you decide to go, you can be fully prepared. 
Before departure: 
You'll need to 

complete an online entry form

.

 

Submit results of a negative PCR test (nasopharyngeal only) completed within 72 hours of travel from an accredited lab, including

Next Generation Medical Laboratory

and

Quality Diagnostic Laboratory

. More information on approved labs is available from the

U.S. Embassy

.

 

Upon uploading your negative test results, you should receive an approval letter from the Ministry of National Security documenting permission to enter the Federation.

 
Upon arrival: 
You'll complete a health screening which includes a temperature check and a health questionnaire.

 

You'll be required to "vacation in place" for three days, by staying at any one of the preapproved hotels for foreigners (more on that later), but you'll still be allowed to interact with other guests and partake in any hotel activities. On day four, you will undergo a PCR test and are free to leave the hotel once you receive negative results.

 
If your trip is between seven and 14 days: 
You'll pay $150 to take another

PCR test

on day seven. If that comes back negative, you'll be approved to book select tours through the hotel's concierge and access select sites.

 
If your trip exceeds 14 days: 
You'll take a final PCR test on day 14 (paid for by you). If you get a negative result, you'll be allowed to move freely around the islands.

 
How to get there
Gallery: 5 Ways Your Vacation Will Cost More Because of the Pandemic (GOBankingRates)
Flights to St. Kitts and Nevis (SKB) tend to be expensive, and only two airlines currently offer nonstop service from the U.S., including American Airlines from its Miami (MIA) hub on Wednesdays, Saturdays and Sundays, and on Saturdays from Charlotte (CLT). As of June 5, Delta offers less-frequent nonstop service with Saturday-only flights from New York-JFK and Atlanta (ATL). 
If you are booking for mid-August or later, fares typically fall between $500-$600 round-trip for a seat in basic economy, though there is limited availability for nonstop flights at basic economy fare depending on dates. 
From Miami, flights in both August and September offer several Economy Web Special awards seat options between 12,000-12,500 AAdvantage miles each way. 
If you're not based in South Florida, booking with AAdvantage miles is probably the way to go. However, nonstop flights are extremely limited, so most of the saver-level awards connect through Miami or Charlotte. 
For example, you can fly from the Washington, D.C., area to SKB by connecting through MIA on the way there and CLT on the way back, although your cheapest option flying back is to Baltimore (BWI) for that saver-level redemption of 12,500 miles for that leg of your trip, for a total of 27,500 AA miles. 
If you prefer to fly Delta, there are basic economy flights from New York-JFK in August, which would give you 48,000 SkyMiles round-trip. From Atlanta, the lowest fare option in August is highlighted below. 

© The Points Guy
Delta does not currently list flights out of JFK or ATL to SKB for September. Check out the St. Kitts and Nevis flights page for updated flight schedules. 
Where to stay
As mentioned above, foreigners visiting St. Kitts and Nevis are limited to a list of eight hotels that have been preapproved by the government. The silver lining of this, though, is that the list includes some of our favorites, including three points hotels: the Park Hyatt St. Kitts, Four Seasons Nevis and the St. Kitts Marriott Resort & The Royal Beach Casino, which the tourism organization notes is currently limited with monitored activity. Other options include Paradise Beach and Royal St. Kitts Hotel. 
If you plan on staying at the newly renovated Four Seasons, you won't be able to use hotel points in the traditional sense, but you can get extra value and elite-like perks by booking through American Express Fine Hotels + Resorts, to which you're given access by holding either The Platinum Card® from American Express or The Business Platinum Card® from American Express. 
Unfortunately for Hilton fans, the Koi Resort St. Kitts, part of the chain's Curio Collection, is currently closed through Oct. 15 to help with COVID-19. 
Related: Review of the Park Hyatt St. Kitts 
If you want to use points while visiting, we love the new-ish Park Hyatt St. Kitts, which is a Category 7 property in the World of Hyatt program. You can book rooms for 30,000 points per night, or cash prices start around $431-$500 per night for standard rooms, which is still a pretty solid deal considering the caliber of this property. 
Related: Comparing the Park Hyatt St. Kitts rooms and suites 
If you don't already have World of Hyatt points, it's easy to get them. The program is a transfer partner of Chase Ultimate Rewards; you can instantly transfer those points to Hyatt at a 1:1 ratio. The Chase Sapphire Preferred Card is currently offering a sign-up bonus of 100,000 points after you spend $4,000 in the first three months from account opening. 
Related: Park Hyatt St. Kitts video review 
If you're a Marriott loyalist, consider the St. Kitts Marriott Resort & The Royal Beach Casino. It's a Category 5 property in Marriott's Bonvoy program, which is a great deal for a beachfront resort of this kind. A free night will run you 30,000 points for an off-peak night, 35,000 for a standard night and 40,000 for a peak night. This makes it a great candidate for use of the 35,000-point free night certificates that come with certain Marriott cobranded cards like the Marriott Bonvoy Boundless Credit Card. Cash rates can be as low as $159 per night but more frequently go for $220-$309 for standard rooms. 
Bottom line
St. Kitts and Nevis has done well in its fight against the coronavirus, and it's continuing to make it easier for international visitors to enjoy its tourism industry by setting clear guidelines for vaccinated travelers. St. Kitts and Nevis has reported 538 cases of COVID-19 within its border and three reported deaths, as of July 12. 
And now, you only have to stay in your hotel for three days, which is a breeze compared to the previous restrictions. The designated hotels for international tourists include some of the best on the islands — and there are plentiful ways to get there on the cheap thanks to points and miles. 
Additional reporting by Caroline Tanner, Nick Ellis, Nick Ewen, Zach Griff, Summer Hull and Eric Rosen. 
Featured photo by Zach Griff/The Points Guy.
SPONSORED: With states reopening, enjoying a meal from a restaurant no longer just means curbside pickup.
And when you do spend on dining, you should use a credit card that will maximize your rewards and potentially even score special discounts. Thanks to temporary card bonuses and changes due to coronavirus, you may even be able to score a meal at your favorite restaurant for free. 
These are the best credit cards for dining out, taking out, and ordering in to maximize every meal purchase.
—
Editorial Disclaimer: Opinions expressed here are the author's alone, not those of any bank, credit card issuer, airlines or hotel chain, and have not been reviewed, approved or otherwise endorsed by any of these entities.
Source: Read Full Article