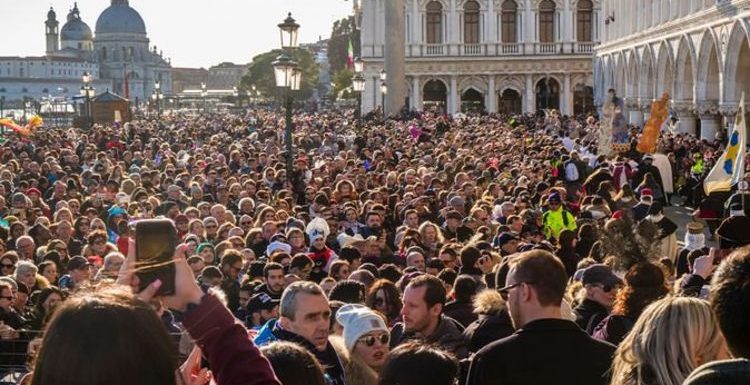 Travel: Simon Calder discusses taking PCR tests
We use your sign-up to provide content in ways you've consented to and to improve our understanding of you. This may include adverts from us and 3rd parties based on our understanding. You can unsubscribe at any time. More info
Venice plans to charge €10 to those visitors who wish to spend their holidays in the Italian city. The measure is to control the rising tourist numbers, which have become unsustainable for the holiday spot.
The Italian city is doing as much as possible to reduce the number of visitors.
After banning large cruise ships earlier this month, Venice is set to apply further measures to keep tourist rates under control.
The city will implement several new rules such as an online booking system to enter and a €10 fee, according to the Italian newspaper La Stampa.
Visitors will be entering Venice via themed park-style electronic turnstiles.
What do you think? Join the debate in the comments section here
However, if travellers visit the city during the low season, the fee could be reduced to €3.
This is the latest measure the city has adopted after banning cruises on August 1.
The new rule, which will come into effect on June 1, 2022, has been highly criticised.
City councillor Marco Gasparinetti said the new measure is "unconstitutional and contrary to European legislation."
"It could be implemented for a specific area, like the San Marco square, but not the whole city," he said.
"It's just a way to make money," he claimed.
Culture Minister Dario Franceschini explained this is mainly "to avoid the concrete risk" of being added to the list of "world heritage in danger" by Unesco.
More than 25 million people visit Venice every year, a number that has become unsustainable for the city.
Environmentalists have been fighting for years as the thousands of tourists that enter Venice every day damage the city and its marine environment.
However, many travellers have taken to social media to comment on the "surreal" measure.
"If you have to pay to visit Venice, apart from all the money you spend to get there plus the tourist tax, it's better to go somewhere else.
"People will run away," one user said.
"It's a bit surreal, electronic turnstiles as if it was a theme park," commented another one.
"Not a chance I'm going," said a third one.
"I'll pass then," commented another traveller.
However, some believed this won't be enough to avoid crowds with one saying: "Seriously, they could increase it tenfold and it would still be worth it. Those rates will only deter the tightest of the tightest."
Source: Read Full Article