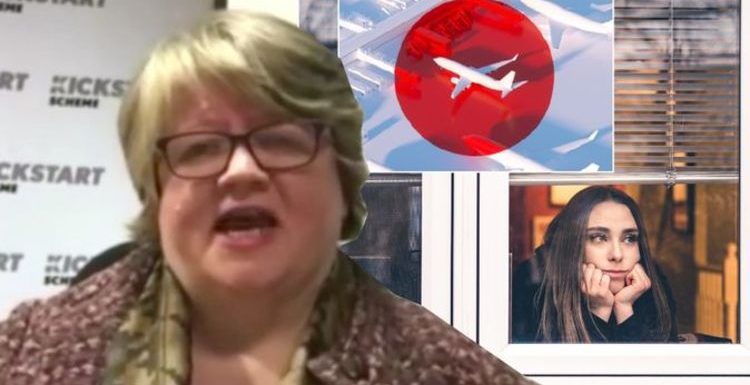 Thérèse Coffey grilled by host on imposing forced UK quarantine
The UK Government is ramping up restrictions for arrivals entering the country amid growing concerns over the new coronavirus variants. Now, arrivals into the UK are likely to face tightened quarantine rules, which would see them forced to endure their 10 days of self-isolation in a hotel at their own expense.
However, the decision comes almost one year after the detection of the virus and has seen some criticism.
Despite this, Secretary of State at the Department for Work and Pensions Thérèse Coffey has defended the Government's slow move to implement the rule.
Appearing on Good Morning Britain, the MP said the Government has put in place "a number of restrictions" on international travel over the year.
However, Piers Morgan asked Ms Coffey: "Why have we never done this, given that we are now doing all of this which is nearly a year after the virus exploded into the world. Why have we decided that now it is a good idea?"
We will use your email address only for sending you newsletters. Please see our Privacy Notice for details of your data protection rights.
The Conservative MP stood up for the Government, pointing to some initial efforts it had put in place to quarantine arrivals.
"Piers, I don't know the answer to that but I am saying we have had a number of restrictions that we have had on international travel," she said.
"Certainly in the run-up to Christmas, we were saying to people: 'Please only consider essential travel.'
"I am conscious that people have chosen to do different things during that time.
DON'T MISS
Holidays: Portugal, Netherlands and Finland ban UK travellers [INSIGHT]
Flights: Latest updates for BA, TUI, easyJet, Ryanair & Jet2 [UPDATE]
Ex BA cabin crew shares horrifying details of 'hardest flight' [INSIDER]
"In terms of the introduction of locator forms, in terms of now we have pre-testing for people who want to come into this country, in terms of the 10 day isolation period has been in place for some time as well as the test to release."
She went on to warn more rules could follow in the future in a bid to gain control over the new variants.
"The prime minister was clear we would continue to consider further measures that may be deemed necessary," she continued.
"As I say we have picked up more variants which are more challenging."
Travel experts have suggested the latest quarantine rule could serve yet another blow for the already floundering travel and tourism industry.
Simon Calder pointed out: "Clearly nobody is going to go on holiday if they have to quarantine for two weeks, hardly anyone goes on holiday if they have to quarantine for two weeks on their return anyway and that is almost certainly not going to happen if they are going to have to go into a hotel to quarantine."
In a similar vein, CEO of the PC Agency Paul Charles described the decision as one which "would be hugely damaging".
In a tweet, he stated: "The government must publish its Economic Impact Assessment before any decision is made to introduce hotel quarantine for inbound travellers to the #UK.
"The jobs impact on the travel sector, and people's mental health by not taking a holiday, will be immense."
Under the quarantine rule, arrivals would be required to stay in a designated hotel for the duration of their quarantine.
During this time they would be checked up on by authorities, and face strict rules such as not being allowed to smoke cigarettes.
Travellers could also be required to take coronavirus tests during their quarantine.
Source: Read Full Article