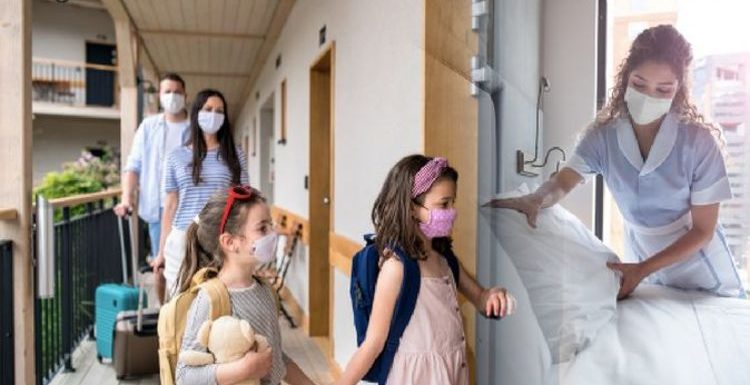 Boris Johnson: New variant may have 'higher degree of mortality'
Boris Johnson is set to introduce a new rule for arrivals into the UK coming from "high risk" destinations. In a bid to curb the spread of new coronavirus variants, the Prime Minister is expected to announce a new rule which dictates all arrivals into the UK must spend their 10 days of mandatory quarantine in a hotel at their own expense.
The move thought to be a push towards ensuring all arrivals stick to the self-isolation rules, and can easily be checked up on.
According to BBC News, the rule is "likely to be brought in and "will apply at the very least to foreigners, maybe everyone."
However, travel insiders say the move could be "hugely damaging" to the aviation and tourism sector, as well as the UK economy overall.
"If the Government put in hotel quarantine for everybody coming into the UK it would snuff out recovery in the aviation and travel sector," Paul Charles, CEO of the PC Agency, told Sky News.
We will use your email address only for sending you newsletters. Please see our Privacy Notice for details of your data protection rights.
"It would reduce confidence. It would mean people would not be prepared to book future holidays until they are certain they wouldn't have to quarantine when they return to the UK.
"It would be a hugely damaging policy measure and for that I think the Government needs to think very very carefully before they do something that deliberately hurts the economy."
In a tweet, he added: "The government must publish its Economic Impact Assessment before any decision is made to introduce hotel quarantine for inbound travellers to the #UK.
"The jobs impact on the travel sector, and people's mental health by not taking a holiday, will be immense."
DON'T MISS
Ex BA cabin crew shares horrifying details of 'hardest flight' [INSIDER]
Cruise: Sneak peek at 'billionaire' private 'paradise island' [PICTURES]
Holidays: Portugal, Netherlands and Finland ban UK travellers [UPDATE]
Similarly, travel expert Simon Calder pointed out: "Clearly nobody is going to go on holiday if they have to quarantine for two weeks, hardly anyone goes on holiday if they have to quarantine for two weeks on their return anyway and that is almost certainly not going to happen if they are going to have to go into a hotel to quarantine."
So far, no major names in the hotel world have come forward to say they have been contacted by the Government to take part in the new policy.
If ministers agree on the new quarantine rule, they will have to decide whether it will apply just to foreign nationals, or whether they will also enforce the rule for UK residents.
Some Government ministers have suggested even the new rules don't go far enough and recommend even tighter restrictions be brought in.
Speaking on Sky News, Tom Tugenhadt, chair of the Foreign Affairs Select Committee, said: "It wouldn't be unwise for us to look very hard at our borders and to really consider if now is the time to make sure we control access and restrain any spread."
The move comes following a series of COVID-19 variants which have been discovered around the world.
The three main ones include a strain found in the UK, which is thought to be 70 percent more contagious.
There are also new fears it could spark a higher risk of mortality.
Other variants have been discovered in South Africa and Brazil.
In a bid to stop variants from spreading internationally, Boris Johnson made the decision to close all travel corridors.
This means Britons arriving from all destinations, regardless of their coronavirus case rates, must self-isolate for ten days upon arrival.
People coming to the UK from overseas must also take a coronavirus test within 72 hours of travel.
A negative test must be presented before they are granted entry.
Source: Read Full Article