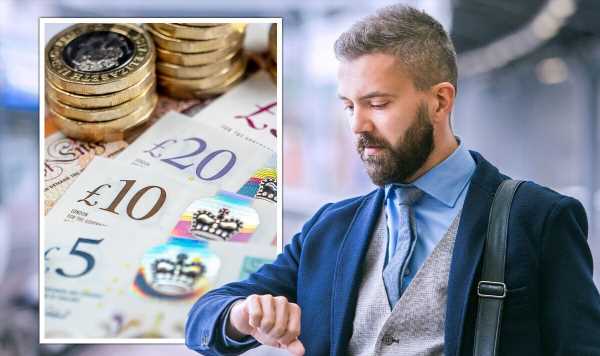 Tube driver gives message to public about strikes
We use your sign-up to provide content in ways you've consented to and to improve our understanding of you. This may include adverts from us and 3rd parties based on our understanding. You can unsubscribe at any time. More info
The National Union of Rail, Maritime and Transport Workers (RMT) has confirmed industrial action will begin this week, affecting Network Rail and 13 train operators on Tuesday, Thursday and Saturday. The London Underground network is also expected to be affected by staff shortages due to strikes this week. People have been advised not to use the rail network while strikes are taking place, but compensation is still available for people affected by delayed or cancelled trains.
Can you claim compensation for a delayed or cancelled train?
One nationwide rail compensation scheme is Delay Repay, and it is used by some of the following train operators, among others:
c2c
Gatwick Express
Great Northern
LNER
Southeastern
ThamesLink
West Midlands Railway
Some operators may not have the Delay Repay scheme, but details of their own compensation schemes should be outlined on their websites.
The train operator will usually need your journey details and proof of your train ticket to process your claim, and it will be checked against live train time information to calculate how much compensation you are owed.
Many train operators have online forms you can fill out to make a claim, but wait times for a response will vary depending on the operator.
You may also be able to write to the train company directly. Make sure to include your original train tickets, and take a photo or scan in case your letter is lost, when requesting compensation via post.
How much compensation can you get?
The amount of compensation you are entitled to will depend on how long you were delayed, and on the operator's compensation thresholds.
Some train operators' Delay Repay scheme offers compensation of 25 percent of the ticket price on a single fare if the delay ranged from 15 to 29 minutes.
But for a single or return ticket, a delay of two hours or more could mean customers are eligible for compensation worth 100 percent of the ticket price.
DON'T MISS:
Train strikes LIVE: Workers prepare action until CHRISTMAS [LIVE]
Tube strike schedule: All you need to know about industrial action [EXPLAINED]
'You're letting down working people!' Labour skewered by RMT boss [VIDEO]
According to Citizens Advice, you're legally entitled to compensation of 50 percent of your ticket price if you get to your destination between 30 minutes and an hour late.
You are also eligible for a full refund if you arrive more than one hour late to your destination.
Train operators may be able to pay your compensation straight into your bank account, or they may offer you vouchers to use on future train journeys.
As Citizens Advice explained, you aren't obligated to take the vouchers and you can insist on a cash refund if you prefer.
What if I have a season ticket?
Season ticket holders are also entitled to compensation for delayed or cancelled trains, and it will usually be calculated as a percentage of the price you paid for the ticket.
Transport Secretary Grant Shapps said last week that season ticket holders will be paid "full compensation on strike days".
He added: "I've moved to help make that an automatic process for those people in order to do whatever we can to remove the inconvenience for passengers."
More compensation information will be available on the website of the train operator you purchased the season ticket from.
Source: Read Full Article