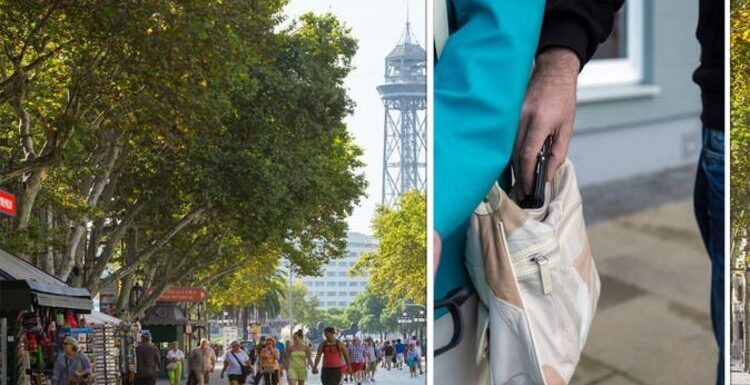 First class travel: How do people get upgraded?
We use your sign-up to provide content in ways you've consented to and to improve our understanding of you. This may include adverts from us and 3rd parties based on our understanding. You can unsubscribe at any time. More info
Unfortunately, tourists are often targeted by pickpockets as they carry more cash than residents and may be less aware of common dangers. But where are Britons most likely to be at risk?
Tripadvisor compiled a list of the cities where tourists are most likely to be at risk from thieves.
The number one hotspot for pickpocketing might not be a surprise to many British tourists.
The Spanish city of Barcelona is the world's top spot for common pickpocketing and tourists are particularly at risk in the city's hotspots such as Las Ramblas.
Barcelona's famous pedestrianised street is world-renowned for its incredible street performers and many tourists stop to marvel at the artists.
However, they could be at risk of having their wallet or phone stolen by a pickpocket in the famous area.
One visitor wrote on Tripadvisor: "Be careful, there are lots of pickpocketers and people trying to sell you cheap junk."
The second top pickpocketing hotspot is the Italian capital city of Rome. The city attracts millions of tourists every year.
Many visitors flock to the city's astounding historical landmarks such as the Trevi Fountain or the Colosseum.
They will need to keep a close eye on their belongings as pickpocketing is very common in the beautiful city.
Prague in Czechia was the third most common city in the world for pickpocketing crime. The romantic Eastern European city is an extremely popular tourist destination.
However, theft is fairly common in Prague and tourists will need to take caution when wandering its beautiful cobbled streets.
The second Spanish city to be ranked a pickpocketing hotspot, Madrid was ranked in fourth place.
The Spanish capital is popular for its lively nightlife and restaurant scene but unfortunately tourists will need to keep an eye out for pickpockets.
Paris took the fifth spot. Tourist favourites such as the Eiffel Tower and the Louvre could be pickpocketing hotspots.
As crowds gather to marvel at the city's incredible sights, pickpockets may find opportunities to steal from tourists.
The gorgeous Italian city of Florence was ranked as the sixth most at risk holiday destination.
Argentina's capital city Buenos Aires took the seventh spot and tourists in the holiday destination are advised to watch out for the 'mustard trick' scam.
The popular scam is also sometimes known as a 'bird poo' trick and involves scammers spraying a liquid such as mustard on an unsuspecting tourist.
They will then offer to help wipe down the victim and use the opportunity to steal valuables from their pockets.
World's top pickpocketing spots (Tripadvisor)
Barcelona
Rome
Prague
Madrid
Paris
Florence
Buenos Aires
Amsterdam
Athens
Hanoi
Source: Read Full Article