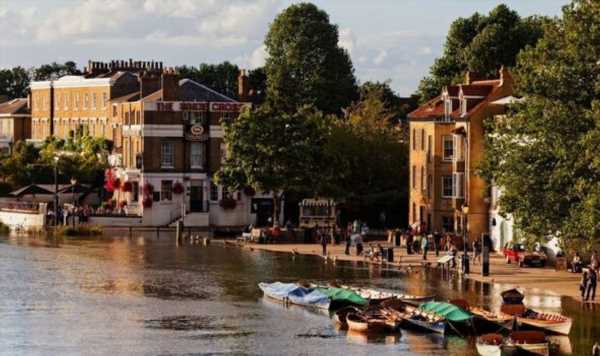 Pete Townshend, 78, once settled in the quiet suburb of Richmond Hill in London, which was his loving home for a lengthy 26 years.
The grand residence, once also owned by Rolling Stones guitarist, Ronnie Wood, was an 18th-century, Grade I listed Georgian house, which sold for a huge £15m in August 2021, according to music magazine, NME.
The six-bedroom property had a swimming pool and recording studio on site, was 8,500 square feet, and gave access to beautiful views of the surrounding city and nearby Surrey.
Although the guitarist of the successful band, The Who, had travelled the world, he chose to settle down in a tranquil part of the country, like many other celebrities who prefer a quiet life, near nature.
READ MORE: Meet the British designer making Hollywood A-listers feel at home
Richmond Park is London's largest Site of Special Scientific Interest (SSSI) and a national nature reserve.
The park traces its origins back to 1625 when Charles I brought his court to nearby Richmond Palace to escape the plague sweeping through London and he turned this landscape into a hunting park, filled with red and fallow deer.
The park is home to over 630 red and fallow deer who have been roaming freely since 1637.
At the heart of the part is the Isabella Plantation which is an enclosed 40-acre woodland garden. It's famous for its National Plant Collection of evergreen Kurume azaleas from Japan, and abundant spring-flowering camellias, magnolia and rhododendrons.
Speaking to the Royal Parks, Arit Anderson, gardening writer said: "It's so important for people living in cities to be able to enjoy peace and quiet among the trees. It feels great to enjoy a bit of nature on your doorstep – and it's all free."
Deer herds have played a major role in Richmond Park's history and have shaped the landscape too.
Deer grazing in the park prevents tree seedlings from growing, which keeps the grassland open. Unlike mowing, grazing creates more variation in structure and plant diversity and does not damage the more than 400,000 anthills.
Richmond has a rich and varied history that dates back to the Tudor period. The area was originally a royal residence, but it gradually developed into a residential district in the 19th century.
During the 20th century, Richmond became a hub for commerce and tourism, and it has since become known for its stunning parks and gardens, as well as its rich cultural heritage.
The riverside is a picturesque stretch of the River Thames home to restaurants and bars, and in warmer months there are opportunities for river cruises or boat trips.
Advert-free experience without interruptions.
Rocket-fast speedy loading pages.
Exclusive & Unlimited access to all our content.
Don't miss…
Beautiful neighbourhood 'now as busy as New York' due to constant roadworks[LATEST]
Greggs slammed for hanging wrong photograph of Richmond London in Yorkshire stor[LATEST]
Sir David Attenborough's quiet life in London suburb where average home is £1m[INSIGHT]
Properties in Richmond had an overall average price of £1,044,110 over the last year, according to Right Move.
The majority of sales in Richmond during the last year were flats, selling for an average price of £557,028. Terraced properties sold for an average of £1,041,479, with semi-detached properties fetching £1,683,172.
This is why the suburb is popular among celebrities, and also home to Sir David Attenborough, who has previously described Richmond as his "favourite place on earth".
Source: Read Full Article