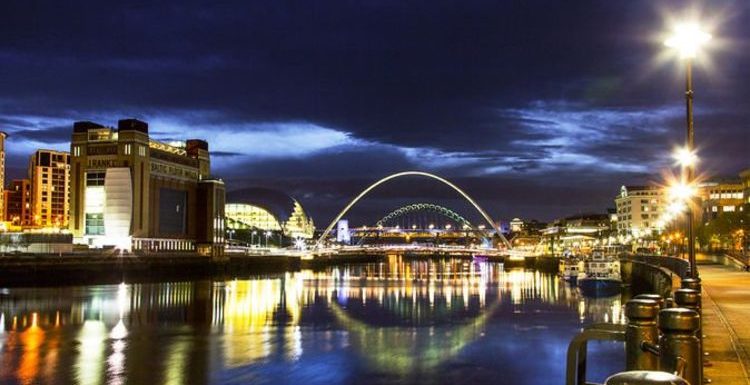 We use your sign-up to provide content in ways you've consented to and to improve our understanding of you. This may include adverts from us and 3rd parties based on our understanding. You can unsubscribe at any time. More info
So it was that two slightly giddy women pulled into Newcastle station, after a speedy train journey of just under three hours, ready to relive our responsibility-free youth. We hopped into a pre-booked Dean Taxis, marvelling at the beautiful architecture the city had to offer as we made our way to our hotel.
We stayed at Hotel du Vin, a chic, grownup choice that was close enought to the centre but not so close we were bothered by late night city noise.
Check-in was smooth, and we were thrilled with our large room – especially the bathroom, with it's huge walk-in shower and indulgent L'Occitane products.
After a couple of hours of catching up over room service champagne, we hopped into another taxi to take us to the first bar on our must-visit list.
ABOVE at Vermont Hotel has sweeping views of the city, and there is nothing like a rooftop bar to get the party going.
Just something to note – the entrance to ABOVE is separate to the hotel, so don't do what we did and ask to go the Vermont – you'll have a three minute walk down steep steps to deal with if you do.
After queuing briefly outside, we were ushered into a lift to take us up to the bar – and as the lift doors opened, I could see this was a luxurious hotspot, filled with Newcastle's most beautiful.
Initially, we were taken to a side room away from the hustle and bustle of the main bar – if you find yourself being led this way, ask to remain in the main bar, as this is essentially a walk through to the bathrooms.
Reseated, we were much happier, and enjoyed the expertly made cocktails. We also tucked into a delicious meze platter – gone are the days were I can drink without food!
After soaking up the views and enjoying the drinks, we tore ourselves away for dinner. Just minutes walk away, down a quiet street was elegant 21 Newcastle.
A warm welcome awaited us, and we enjoyed a lavish meal of oysters, halibut, and a hazlenut soufflé I'm still thinking about weeks later.
The wine list was extensive, although I admit I stuck to champagne to fit the celebratory mood we were in.
I couldn't recommend 21 Newcastle more – the staff were friendly, knowledgeable and not over-bearing (a pet peeve of mine), and the food was sensational.
Keen to keep the fun going, we made our way to Tiger Hornsby.
It was packed, but we thankfully had a table – perfectly located next to an area others had turned into a dancefloor so we could jump up for a shimmy when we wanted to.
Mostly though, we enjoyed the fab cocktails – I went for a classic French 75 Martini (ok, I admit, more than one!).
The crowd was friendly, well dresssed, and up for a laugh – the night could definitely have gone on and on.
However, my days of early morning club nights are long gone, so we booked with Dean Taxis again and whizzed back to the hotel.
Hotel du Vin's beds were so comfortable, it was difficult to tear ourselves away, but we made it in time for breakfast, which was generous.
As well as pastries, cereal, yoghurt, fruit and toast, there were hot options to order. I went for a restorative avocado on toast (I'm a millenial after all), which was just what I needed to fuel me for the journey home.
Another quick train journey later, giggling about the night before, and we were home, already missing the city that gave us the perfect girls' night out.
Source: Read Full Article