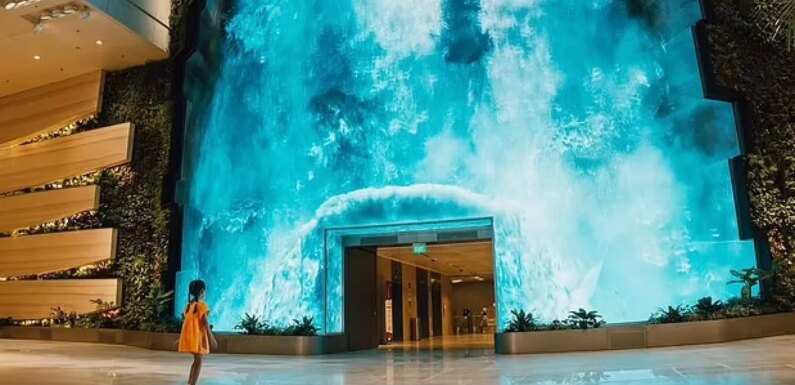 The world's 'best airport' has had a futuristic makeover. Holidaymakers stopping in the airport will be blown away by the hyper-modern design, newactivities and robot waiters.
Changi Airport, in Singapore, bagged the top airport award in 2023 over 550 other airports worldwide. It also won best airport dining and best airport leisure amenities at the Skytrax World Airport Awards 2023.
It is little wonder why when the flight hub has dozens of amenities – including slides, nets that let you walk through the air, a glass bridge and hall of mirrors. There's also a swimming pool that guests can take a dip in during long layovers and you can even get married in the airport.
READ MORE: 'I found plane seat's hidden button – it really is a gamechanger on flights'
Read all the latest stories from the Daily Star's travel team
One influencer who shared a video of her time in the airport showed off the pop-up attractions, waterfall and shopping. She dubbed the airport her "favourite airport experience of [her] life".
Now, the airport has even more to offer tourists after a recent modern makeover which has "refreshed and expanded" Terminal 2. Now, another five million people can be accommodated every year with 90million passengers now able to use the airport.
Some of the futuristic new amenities and features include robot bartenders who will offer guests cocktails. You'll feel like you're stepping into the year 3,000!
Toni, the robot, is based at Lotte Duty Free Wines and Spirits – a shop selling luxury booze – and passengers can even bag a free drink from the animatronic. The same shop uses digital screens to show the moon reflected in a lake.
There's also an enormous 14m high digital waterfall that shows water tumbling down the walls and onto a passage without a drop of water involved in the heart of departures. It offers a "soothing sensory experience" while you wait for a flight.
There's also an "enchanting" garden with thousands of plants for those who want to feel close to nature. The dreamscape garden offers a winding path lit up by a digital ceiling and filled with tropical plants.
Plus a new dining area has glorious panoramic views of 16 different planes through floor-to-ceiling windows, dangling lights and plenty of fresh greenery. You can enjoy a snack or meal while looking over the incredible views – try the chicken rice at Wee Nam Kee Chicken Rice for local flavour or cocktail fusions at The Satay Club.
The Hainan Story bakery sells tasty baked goods and butter coffee – it's a thing, trust us. The Gourmet Garden dining area also offers curries at Crave Nasi Lemak.
Other interesting amenities in the airport include a bar-cum-lounge – the "Forest of Li Bai" with a wall of whiskey for you to sample shots and a selfie mirror that uses tech to let you take photos with K-pop stars. Those travelling with kids should hop over to the Two Bears Hideout where there's a honeycomb trampoline, slides and other playground fun to be had.
The airport's makeover has freed up a lot of extra space meaning there's now a Fast and Seamless Travel area with more check-in kiosks and automated bag-drop machines. Plus, there are assistance lanes for young kids and people with disabilities.
An "early baggage storage" zone means that up to 2,4000 luggage items can be dropped off and stored so you can spend hours exploring the airport. The Terminal 2 expansion was completed early and is now fully open to the public.
Speaking at the Terminal 2 Expansion Opening Ceremony last week, Senior Minister and Coordinating Minister for National Security Teo Chee Hean said: "The T2 expansion project started in January 2020, two months before Singapore closed its borders because of the Covid-19 pandemic. But Changi Airport Group (CAG) pushed ahead with the T2 expansion, driven by the conviction that our Changi air hub would not only recover from the pandemic, but emerge stronger."
In terminal one and three there are children's play areas prayer rooms as well as shower and spa services Terminal one boasts supermarkets, a jacuzzi and pool and TV lounges. Terminal three has an outdoor plaza, movie theatre, and a wine and spirits store.
Source: Read Full Article