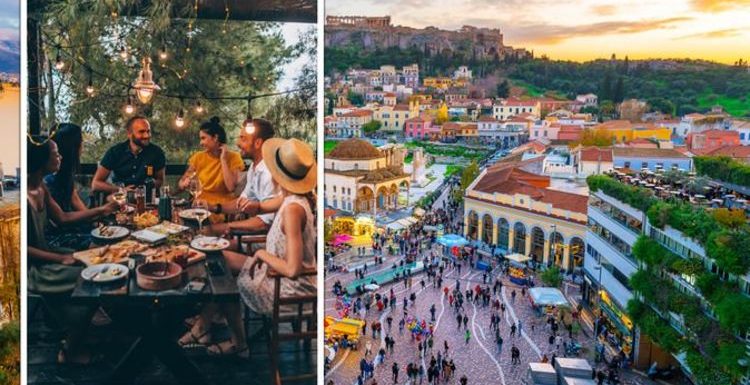 Boris Johnson 'needs to step up for British expats' says expert
We use your sign-up to provide content in ways you've consented to and to improve our understanding of you. This may include adverts from us and 3rd parties based on our understanding. You can unsubscribe at any time. More info
Relocating to another country is a big decision, but British expat Bex has done so on multiple occasions. Landing in Greece, she made her home in the capital city, Athens.
Life for expats in Greece can be "slightly chaotic" said Bex, but it "suited" her.
Bex's move to Greece was supposed to last a year, "before moving to a far flung, 'tropical' destination".
Years later, she was still in Greece and felt "blessed" to be able to live the life she lived.
She said: "I actually prefer living in a foreign country, and the Mediterranean way of life suits me."
British expats moving to southern Europe are chasing the sun and the lifestyle, and Bex was no different.
She said the thing she enjoyed most about living in Greece was "the lifestyle".
She explained: "How people don't drink to get drunk…
"They know how to enjoy life without having the need to drink excessively.
"I love taking three hours over a good meal: 'You can never rush a good meal' is the motto – and this seems to be a philosophy of life too.
"I've learned to slow down since being in Greece and this has paid off for me, both personally and professionally."
Bex' relocation was made easier by having moved by herself, she said, as she "only had herself to think about".
But she also made an effort to surround herself with plenty of friends, expats and locals alike.
She explained: "I have a wide circle of friends: expats who're married to Greeks and Greeks too."
Athens offered plenty of things to do for expats, Bex said: "I love living in the centre of Athens – I deliberately chose to live in a non-expat neighbourhood.
"I live about 20 minutes from the Acropolis by public transport.
"There are always people to visit and go for a coffee with; outdoor cinemas in the summertime; more coffee; gallery openings; did I mention going for coffee?"
Bex was not planning on going home anytime soon.
She was very aware of how important the weather was for her, and said it played "a huge impact on her life".
For fellow Britons who wish to move to Greece, Bex had one advice: "Leave your preconceptions behind.
"Learn to adapt: this is the way of life here and the more you shout and demand things to be done, the more you'll get looked at as that 'rude, crazy foreigner'."
Source: Read Full Article