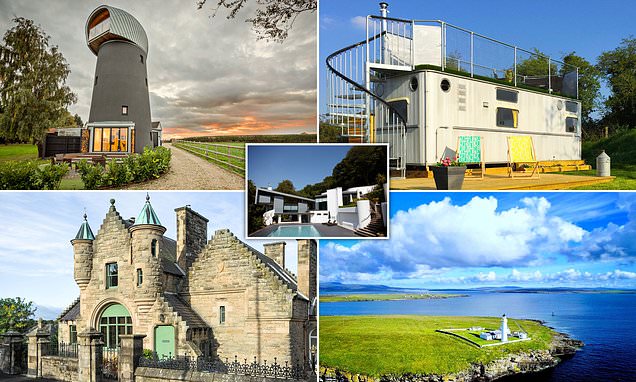 The 20 most unusual places to stay in Britain revealed, from a remote island lighthouse to a Suffolk windmill and a Scottish townhouse with turrets
The research was carried out by analysing 2,600 HostUnusual.com accommodation listings 
After analysing the data and travel experts adding their thoughts a ranked list was rustled up
Here we present the list in reverse order, so the further you scroll, the more eccentric the properties become 
Wondering how to spice up your next staycation? 
Look no further than new research by South Western Railway that has revealed a list of the UK's quirkiest places to stay. 
To compile the list, SWR analysed more than 2,600 listings on the holiday accommodation website HostUnusual.com and ranked them according to their Google rating, the number of Google reviews they had, and how unique they were – as decided by a panel of travel experts, including blogger Erica Vonderwall.
After crunching the data, a ranked collection of the 20 most eccentric places to stay has been revealed.
The intriguing list comprises everything from 50s-style American airsoft trailers to a Suffolk windmill and from an Orkney lighthouse to a London boathouse.
Scroll down to discover the abodes that made the cut, listed in reverse order…
NO.20. THE HILLSIDE HIDEAWAY, CARBOST, ISLE OF SKYE: This two-person retreat overlooks Loch Harport near the Talisker Distillery and has a living roof and floor-to-ceiling glass windows. It's fronted by a roomy balcony that serves up panoramic views of the water and inside there's a woodburning stove and lots of plump seating space. The average cost of a night here is £99
These properties are also available through other accommodation portfolio websites and can also be booked directly.
Source: Read Full Article