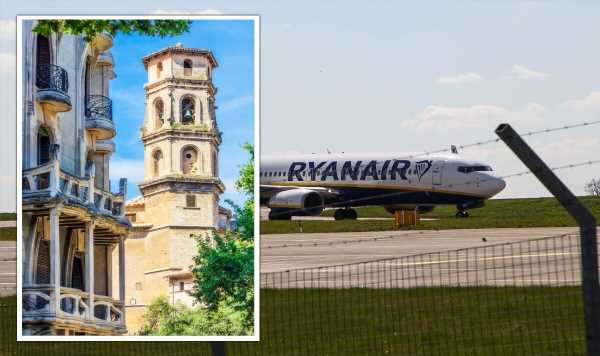 GMB: Simon Calder talks about passport rules detail
We use your sign-up to provide content in ways you've consented to and to improve our understanding of you. This may include adverts from us and 3rd parties based on our understanding. You can unsubscribe at any time. More info
According to reports, all 14 passengers had checked in for the flight and were at the gate. They said they were being organised into groups for the shuttle bus to the plane.
Due to a lack of space on the shuttles, 14 passengers were left at the airport waiting for the bus.
One said: "We watched the last bus leave, and there we stayed…waiting."
However, after some time in which they said they received no information, they found out that the plane had taken off without them.
One said: "I don't understand how this could have happened. We all passed through the security check.
"The system would surely have indicated that we were still on land."
One passenger said they had presented their QR code at security so surely should have been on Ryanair's system.
According to Spanish News Today, Ryanair offered the passengers another flight at 10pm on Saturday and a four euro (£3.35) voucher to spend at the airport's shops.
One of the women was travelling for a scheduled chemotherapy appointment and was very concerned about missing it.
Earlier this year, one couple boarded a Ryanair flight to Madrid instead of their own flight to the UK from Toulouse.
The couple flew the whole way to Madrid before realising they were on the wrong plane.
According to Ryanair, the pair had crossed an unauthorised area and boarded the wrong plane.
The airline added that there should have been announcements to say where the Madrid flight was travelling.
As the Madrid flight was not full, the couple were able to sit in their allocated London seats which did not alert them to the error.
British travellers have faced widespread chaos at UK airports as they try to get away for post-pandemic holidays.
Staff shortages at Heathrow and Manchester airports have led to long queues and security chaos.
Many staff left the travel industry during the pandemic and may have since found other work.
British Airways and easyJet have also struggled with staff sickness and shortages which have led to cancelled flights.
In recent weeks, British Airways has cancelled over 100 flights a day although the airline has said passengers did receive prior warning.
easyJet has cancelled around 70 flights a day as it struggles with staff off with Covid and other shortages.
Milan has been one of the most affected BA destinations although popular spots all over Europe have seen flights cancelled.
Ryanair has been contacted for comment about the forgotten passengers.
Source: Read Full Article