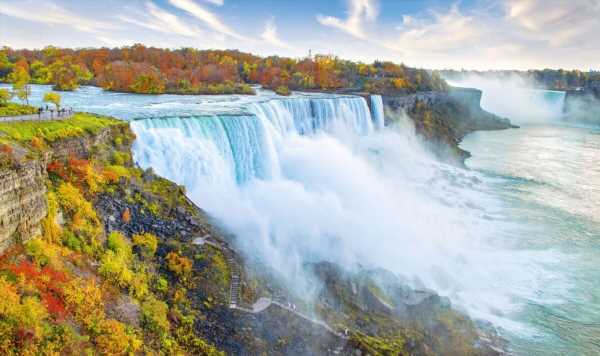 Despite being named the best tourist destination in the world, it seems visitors are unimpressed, with some describing its surroundings as "run down".
Niagara Falls features at the top of a number of lists of the best destinations in the world to visit including those by Forbes, Tripadvisor and Skyscanner, but those who have been say it is surrounded by ugly buildings and expensive parking.
The group of three waterfalls which span the border between the US and Canada are often praised as a bucket list destination for their stunning crystal clear waters and green surroundings with about 30 million people choosing to visit every year.
But many travellers have taken to Tripadvisor to slam the destination for its "tacky" surrounding city and large quantities of litter.
One reviewer, Philip M said: "Tacky town would never come back a waste of money and so run down.
"Biggest disappointment and I've travelled around the world.
READ MORE Niagara Falls FREEZE: Will Niagara Falls freeze over?[LATEST]
"The town is so run down and tacky, full of fast food rubbish, save your money and don't be fooled like us and come here.
"The falls are great for five minutes and that's about it."
Another reviewer said they regretted their trip to the falls due to how difficult it was to park close by.
They said: "After spending five minutes in Niagara we already regretted the trip.
Don't miss…
Experts fear town of 4k people about to be wiped out by huge eruption in Iceland[LATEST]
The beautiful city near UK with Europe's 'most underrated' Christmas market[LATEST]
The beautiful country with almost no tourists that's £80 a day cheaper to visit[LATEST]
Support fearless journalism
Read The Daily Express online, advert free
Get super-fast page loading
"Parking is a complete rip-off and there is no easy street or free parking. The sidewalks are jam-packed with people and there is a wait everywhere to eat.
"Food is extremely overpriced and underwhelming. The hotel was a mess even though it got good reviews on here.
"The falls themselves are cool but that's a 20-minute boat ride. I would come, see them and not spend an extra second in that town."
Their claims about parking were backed up by other reviewers who said they had been charged $35 to park in the town.
And despite the endless praise for the beauty of the falls, some reviewers found them a bit boring.
One reviewer, Rob T said: "Wow, water. I mean, it was okay if you like to stare at and listen to water. It wouldn't hurt to send a boat over the side every now and then for some thrills."
Source: Read Full Article