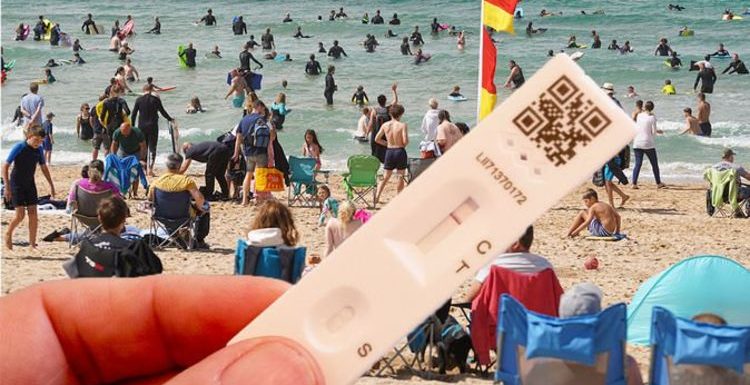 Cornwall: Kim Conchie says there is a 'perfect storm' in county
We use your sign-up to provide content in ways you've consented to and to improve our understanding of you. This may include adverts from us and 3rd parties based on our understanding. You can unsubscribe at any time. More info
Cornwall has seen a major surge in coronavirus infections in recent weeks, with nearly 5,000 new cases being detected as a result of a music festival that took place earlier this month. Tourism bosses are also pointing to a mass migration of tourists during the peak summer season. As a result, they are asking all visitors to only visit if they obtain a negative COVID-19 lateral flow test before their stay.
Malcolm Bell, chief executive of Visit Cornwall told Cornwall Live: "We are asking people not to come unless they have booked ahead and request they take a lateral flow test before, during and after (their) stay so that (people) can be safe and help us to manage the current spike."
With testing for international travel a legal requirement, many holidaymakers may be wondering if the same stringent rules apply to travel within the UK.
Is it mandatory to provide a negative COVID-19 test for travel to Cornwall?
It is not a legal obligation to take a coronavirus test before travelling anywhere in the UK.
However, the NHS advises people to take lateral flow tests at home twice a week.
Providing a negative Covid test or proof of vaccination is mandatory, however, if attending large events such as music festivals or sporting events.
Usually, such events will have their requirements specified on their website or will send details to ticket holders.
Coronavirus test results and proof of vaccination can be uploaded to the NHS app which will produce a QR code for use at these events.
Mr Bell has also asked tourists to "treble their efforts as much as possible" when it comes to Covid-safe measures, such as hand washing and social distancing.
He also recommends tourists try to avoid high traffic areas.
Mr Bell explained: "There is concern and most local residents will be happier in a week or so, when the peak season is over and an older demographic visits as there are too many occurrences of overcrowding in honey pots.
"We are asking visitors to look at visiting other parts of Cornwall.
"We have over 300 beaches and lovely parts that can cope with visitors."
DON'T MISS
Spain holidays: Five things Britons must do before travelling
UK staycations: How to pick the right holiday home – tips for buying
When is the next travel update? The five countries which may go green
How can I obtain a free lateral flow test for before and during my Cornwall holiday?
Self-test kits are available from designated pick-up points, which can be found on your local council website.
They can also be obtained from certain pharmacies and participating retailers.
Lateral flow tests can be ordered directly from the NHS.
These tests are designed for people who do not have COVID-19 symptoms.
Can I take a PCR test for free while in Cornwall?
Travellers who develop symptoms while on holiday in Cornwall should obtain a PCR test from NHS services.
NHS services are available to all UK citizens, and you do not have to live in an area in order to take a test there while visiting.
According to the Cornwall government website: "To book an appointment please use the NHS online booking service or call 119.
"You can use this service if you're aged 18 or over and registered with a GP surgery in England.
"You will be able to pick a site, date and time."
How can I access a free PCR test at home if I don't have symptoms?
Lateral flow tests are available to people who do not have symptoms.
NHS PCR test sites are only for use by people who have developed symptoms.
However, some towns and cities have pop-up free PCR test areas to help conclude how many asymptotic cases there are in a particular locality, as well as to detect any variants.
Source: Read Full Article