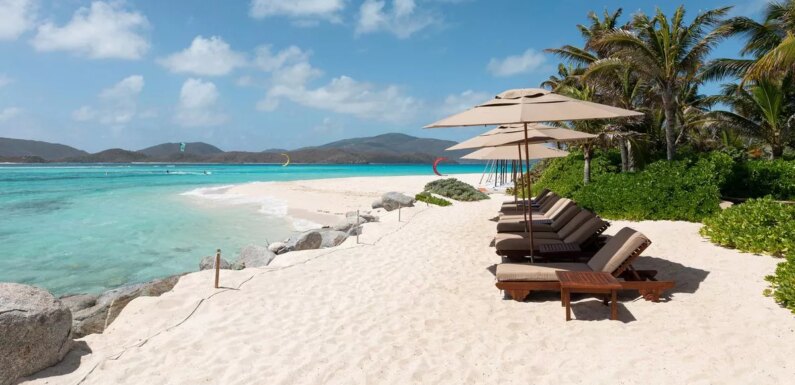 British billionaire Sir Richard Branson is one of the few people in the world to own their own private island cut off from use by the public. Necker Island is based in the British Virgin Islands – which makes sense as the business magnate founded Virgin Group – and boasts white sand beaches, bright blue water and a number of luxurious cabins and suites.
However, never one to miss out on a money-making venture, Sir Richard has previously allowed people to stay on the gorgeous Caribbean island – but only if they buy-out the entire place, or if he personally invites them. Former guests include Barack Obama, Harry Styles, Mariah Carey, Kate Winslet and Kelly Brook.
But, no longer will it just be celebs and the rich and famous who are able to experience the islands charms. It's all about to change as this year Sir Richard is renting out individual rooms to holidaymakers for the first time so anyone who is willing to pay can join his esteemed list of visitors – for £4,417-a-night.
READ MORE: Lesser-known Canary Island is hot all year-round and the beaches are never crowded
Read all the latest stories from the Daily Star's travel team
Necker Island has added a period of 'Individual Stays' in December to welcome couples, or smaller groups of friends and families to the exclusive island around Christmas. Now, you won't be enjoying a white Christmas is a snowy sense that's for sure – but we're pretty sure the incredible accommodation, ocean views and wildlife will make it one to remember.
Guests can book one or more individual rooms on Necker Island between 11 and 26 December 2023 for an extra special Christmas. While staying on the island you'll have access to the white sand beaches, tonnes of activities, fresh food and you can even see endangered wildlife.
To get to the island you'll need to head to Virgin Gorda or Beef Island airports where you'll be picked up in one of Sir Richard's boats. But, flights are pricy with Skyscanner putting the lowest price at £653 for flights to Beef Island or £1,469 to Virgin Gorda.
There are various different itineraries based on when you stay and what you'd like to do. Some include lots of wellness activities like yoga, meditation and learning about conservation. You can also go on boat rides, play tennis, sip on cocktails or get stuck into the pool and beach games.
Those who travel to Necker Island with kids can be sure that they'll have plenty of fun. Each morning, little ones can meet at the Great House before a day of fun on the island with the Necker Squids club (the island's kids' club). They'll get to experience wildlife interactions, pool time, tennis games, and beach activities.
Plus, the children will be able to master baking cookies, making sushi and creating their own pirate hats. Parents can come and join in on the activities or stay away and relax – but your little ones will be returned to you at 5pm each day so you can spend the night as a family.
December Individual Stay Itineraries:
11–20 December: Wellness lovers will enjoy activities such as yoga, Pilates, and meditation in breathtaking locations across the island. Wildlife enthusiasts can take a guided hike on the way to feed lemurs and learn about the island's 140 species of animals, as well as the conservation efforts on the island.
Guests can spend the days enjoying water sports, boat rides, and the famous Necker tennis courts, before cocktails and dinner at the island's most picturesque spots.
20–26 December: Guests will find the same elements of exploration, fun and fitness on their itinerary, but with some extra special Necker-style moments weaved throughout in honour of the Christmas holidays — gingerbread house building at The Great House, famous sushi kayak, "Carol-oke," rum tasting, Santa meet-and-greet, beach olympics and maybe even a rare sighting of a Necker reindeer!
Rates are from US $5,400 [£4417.93] (11-20 December) and $5,850 [£4,786] (20-26 December) per room, per night based on two adults sharing one room, and no departures are permitted on December 24 or 25. Minimum lengths of stay may apply.
The rate includes accommodation, all meals and drinks, return boat transfers from Virgin Gorda or Beef Island airports, water sports, children's activities and more. To book, email [email protected] or visit here.
Source: Read Full Article