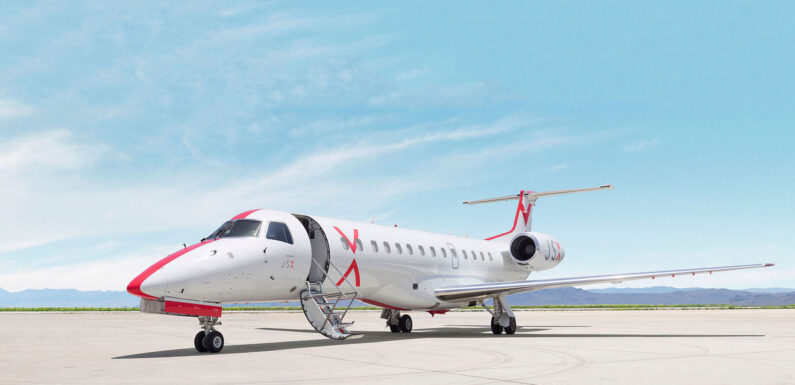 Nearly 60,000 comments have been submitted to the public record regarding a potential FAA plan to require the largest operators of public air charters, most notably JSX, to adhere to the same requirements as commercial airlines. 
That's more comments than the FAA received for recent high-interest rulemakings, such as its writing of comprehensive regulations on drone operations and its consideration on setting standards for airline seat sizes. 
The comment period for the proposed public charter rule ended on Oct. 13, but JSX says that more comments should show up in the online file over the coming days, as the federal government's Regulations.gov website plays catch-up. The carrier says that more than 74,000 people submitted comments in response to a campaign it conducted over the past couple weeks.
A rewrite of public charter rules in the fashion proposed by the FAA would eliminate the JSX business model, which involves operating regularly scheduled flights on 30-seat aircraft from private airport terminals. 
JSX flies to 24 cities on a year-round or seasonal basis. Though small, JSX competes with major carriers for premium customers in some markets, offering free WiFi, spacious seating and lounge space, along with the convenience of avoiding large airports.
In the August announcement about its intent to revise public charter regulations, the FAA noted that such flights have expanded in frequency and complexity in recent years and said that growth will pose an increased risk to flight safety if left unchecked. 
Carriers operating under public charter authority must limit their flights to no more than 30 passengers. But pilots aren't subject to the 1,500-hour training rule unlike commercial airline pilots. Also, charter pilots aren't subject to the mandatory retirement age of 65. 
Public charter flyers don't have to go through standard TSA airport screening, though the operations are subject to TSA oversight.
The debate over public charters will pit powerful forces in the airline industry against each other. Supporting JSX and other public charter operators are JSX partners JetBlue and United. ASTA is also a supporter. 
ASTA wrote in its filing that "a small but growing number of clients utilize the services of public charter operators for their travel needs. For these passengers, travel by charter flight represents an attractive and, in many cases, more convenient alternative to business class travel on a commercial carrier at a comparable cost." 
Opposing JSX and the public charter model are American, Southwest and large airline industry unions such the Air Line Pilots Association and Association of Flight Attendants-CWA.
"Whether flying on an aircraft with 10 seats or 250 seats, the flying public deserves nothing less than to be assured of a consistent and rigorous level of aviation safety," Southwest wrote in its comment. "Southwest urges the FAA to move quickly to take appropriate action so that there will never be a situation in the future where Congress and the public ask why the FAA failed to take action to protect the traveling public when it was possible to do so."
JSX has defended its safety standards and says Southwest, American and the unions are attempting to thwart competition. Like Southwest and American, JSX is based in Dallas.
For example, JSX says that its captains average 8,000 hours of flight experience and its first officers average 3,000 hours.
"The FAA currently faces multiple, real and thoroughly documented safety challenges, "JSX wrote, noting that none involve public charter operators.
Source: Read Full Article